Next to Wicked right now at the Kennedy Center is Next to Normal. But the two musicals could hardly be further apart on the spectrum of Broadway entertainment in the 21st century. Audiences clearly favor the fantastical world of Wicked, which will play to packed houses in the Opera House through late August, while the suburbia-set Next to Normal will wrap up a two-week stand in the Eisenhower Theater on Sunday. But for those willing to forego a fairy tale and immerse themselves in the nightmarish reality of a family devastated by tragic loss and mental illness, Next to Normal offers a brilliantly compelling place to spend a few hours.
Dan (Asa Somers) and Diana (Alice Ripley) are the 40-ish husband and wife who fell in love and started a family young. Fate has not been kind to them, and as the 18th birthday of their firstborn, Gabe (Curt Hansen), approaches, the couple's bond has frayed to the point of disintegration. Diana is obsessed with her son in a way that Dan can't — or won't — recognize, and she is spiraling out of control, caught in the relentless grip of bipolar disorder. Their second child, Natalie (Emma Hunton), feels all-but-invisible in her brother's shadow, and every effort she's made to shine — academically, as a classical pianist, what have you — has taken a backseat to Diana and her illness, which keeps the family in permanent crisis-control mode.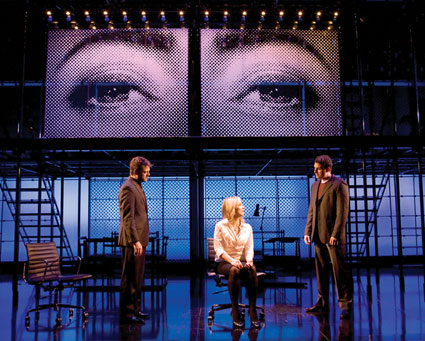 'Next to Normal': Jeremy Kushnier, Alice Ripley, Asa Somersinthe
(Photo by Craig Schwartz)
When Natalie finally gets the undevoted attention of a sweet stoner classmate at her high school, Henry (Preston Sadleir), she doesn't always treat him well. And, inspired by her mom's drug use (prescribed), not to mention Henry's (not), she starts along a treacherous path of self-medication that threatens to derail her ambitions and accomplishments.
Having turned to two psychiatrists, Dr. Fine and Dr. Madden (both portrayed by Jeremy Kushnier, in a skillfully understated performance), in the wake of her latest flare-ups, Diana has decided that Fine's stupefying regimen of pills isn't for her. After all, as she laments in "I Miss the Mountains," isn't it better to feel extreme highs and lows than to feel nothing at all?
Madden isn't convinced that Diana is a good candidate for treatment without medication, but he's willing to give it a go. Until, that is — spoiler alert, I suppose, though surely you see it coming — she attempts suicide, at which point he sees shock therapy as the best option for saving her life.
It's potentially harrowing dramatic terrain — and this is all before intermission. Yet composer Tom Kitt and lyricist-playwright Brian Yorkey employ a hook-heavy alt-rock style that clearly establishes the conflicts and challenges, and songs such as "I Am the One," "Superboy and the Invisible Girl" and "I'm Alive" are crafted so invitingly that you barely realize how much insight you're getting into these rich characters. (Well deserved was the show's 2010 Pulitizer Prize.)
While the show's caliber and acclaim are surely big selling points, there is no small amount of weight put upon Ripley's shoulders. From an acting perspective, it's easy — and exhilarating — to see why she nabbed a Tony Award for her take on Diana — a complex woman whose choices aren't always easy to embrace. Vocally, though, at the tail end of a 36-week North American tour, Ripley is not in top form. Her lyrics are barely intelligible at times, and it's a shame to lose any of Yorkey's words to the raspy fatigue that Ripley seems to be fighting.
Somers imbues Diana's steadfast husband, Dan, with the wrenching sense of panic felt by a man who can't believe things have gotten so bad, but who is strong enough to weather each storm, always hopeful that relative happiness is attainable. In some ways, his goals are simple — a sane wife; happy, safe kids — yet he's no suburban schlub in choosing those priorities, for they prove all too elusive.
You may find yourself thinking Dan is ultimately the most tragic figure in Next to Normal — the one who is most capable of changing his individual circumstances when Diana's mental-health situation proves so formidable. He could get out and forge a new life, but he stays, because that's the simply the kind of man he is.
NEXT TO NORMAL




& 1/2
To July 10
Kennedy Center
Eisenhower Theater
$35-$120
202-467-4600
kennedy-center.org
Then you realize how much Natalie's boyfriend, Henry, is like Dan: head-over-heels in love with a difficult person and not easily dissuaded when things get rough. At least Dan seems to have gotten some carefree time with Diana before her first pregnancy. Henry? He's getting Natalie as a hot mess from the start, and mental-health genetics are not working in her favor.
But such are the realities of so many "normal" lives led in "normal" neighborhoods in "normal" towns all over the place. Open your eyes and ears to the perspective of Next to Normal and you'll see for yourself what an exceptional destination this musical proves to be.