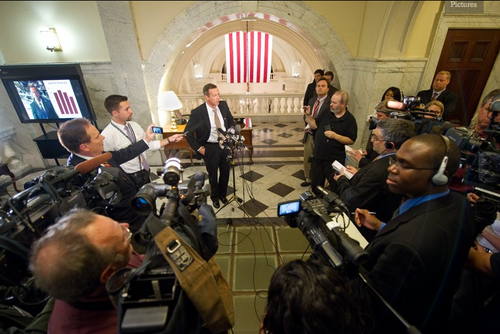 [Photo: Maryland Gov. Martin O'Malley (D) talks with reporters at the close of the 2011 legislative session. (Photo courtesy of Maryland Governor's website.)]
After days of speculation, Maryland Governor Martin O'Malley's (D) office announced today that he will be appearing at the Maryland State House Friday afternoon, July 22, to announce his decision on sponsorship regarding marriage equality legislation during the 2012 legislative session.
O'Malley is scheduled to speak during a press conference at 2 p.m., in the Governor's Reception Room of the Maryland State House in Annapolis.
A 2011 marriage equality bill made it past the state's Senate floor but was ultimately shelved during this year's legislative session after House of Delegates Chairman Joseph Vallario (D-Calvert, Prince George's) recommitted the bill back to committee for further discussion.
Patrick Wojahn, chair of the Equality Maryland Foundation, said he's hoping that the governor will announce that he will make marriage equality legislation a priority in 2012.
"It's still a bit of a question mark," Wojahn said about O'Malley's position on how the state should move forward on same-sex marriage legislation in the state and what role he will play in that process.
"He's calling this press conference for a reason and I think it's promising. I'm very optimistic about what he's going to say, but we can't be certain until it comes out of his mouth."
Wojahn said O'Malley's support will help to convince some of the "reluctant Democrats" in the State Assembly to support marriage equality legislation in 2012.
"I think if the governor is vocally and actively in support of it, then some people who are concerned about opposition to the bill in their districts would be more likely to come out in support of it."
For updates to this story, continue to visit metroweekly.com.