"We've had some tumultuous history around are we or are we not dedicated to a mission of serving the LGBT community," says Justin Goforth, director of the Medical Adherence Unit at Whitman-Walker Health.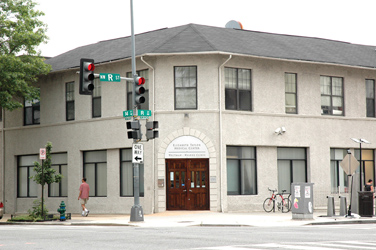 Whitman-Walker Health
(Photo by Julian Vankim)
"I would think this would put the nail in that coffin."
Goforth is referring to the Human Rights Campaign Foundation's Healthcare Equality Index, an annual survey of health care policies related to LGBT people, released on June 30.
For 2011, the survey examined the LGBT-inclusiveness of 375 health care facilities around the country based on four criteria: patient nondiscrimination, visitation, cultural competency training and employment nondiscrimination.
According to HRC, "Nearly 90 percent of respondents include sexual orientation in their Patient's Bill of Rights and/or Non-Discrimination Policy, but only 60 percent include gender identity in these policies. Additionally, only 49 percent of respondents have an explicitly inclusive visitation policy granting equal access for same-sex couples and 52 percent have such a policy inclusive of same-sex parents."
Whitman-Walker Health passed the test in every category, aside from visitation, which did not apply in that WWH does not offer inpatient care. That earned WWH classification as a "leader" in the health care industry.
"There needs to be a place that LGBT community members can identify and say somebody has already done the legwork and figured out this is the place that I can go and trust and feel comfortable and I can be out, because that's important," Goforth says. "There are really important health care needs that are specific to the LGBT community."
To view HRC's Healthcare Equality Index, visit hrc.org/hei2011.