Even considered as tragicomedy, The Merchant of Venice is an awfully dreary affair. The tale is dominated by the Jewish moneylender, Shylock, who is reviled and spit upon – literally – and obsessed with extracting a pound of flesh from a debonair gentile, Antonio, the titular merchant who can't pay his debt. The conflict escalates in court, where Antonio is let off the hook and Shylock is forced to convert to Christianity – universally just and good religion that it is.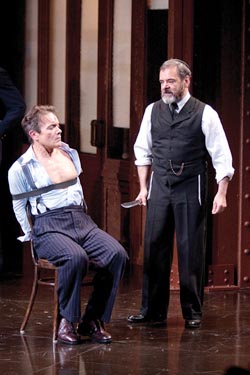 Merchant of Venice
(Photo by Scott Suchman)
Seriously, Shakespeare? I'm laughing till it hurts, here.
Mark Nelson plays Shylock with a consistently simmering fury, and he doesn't try to make the character the least bit likable, which is fine; it highlights his own moral inflexibility that contributes to his downfall. Yet when he's visibly fearful in court once he realizes that injustice will be served, it's nonetheless a heartbreaking moment.
Derek Smith brings more ambiguous shadings to his portrayal of Antonio, whose devotion to the dashing Bassanio (Drew Cortese) creates all this trouble to begin with. Bassanio needs money to woo the heiress Portia (Julia Coffey) at her country estate. Antonio would loan him the money, but his cash is tied up in ships at sea, so he turns to Shylock and dismisses the "pound of flesh" bond, confident that his shipping deals will pay off before the loan is due.
The thing is, why is Antonio as gaga over Bassanio as Bassanio is over Portia? And why does Bassanio respond just as passionately to Antonio? I dunno, Portia. Bromance is one thing, but you might find that one of those handsome butlers of yours will come in particularly handy on some cold night when Antonio, Bassiano and the boys are partying it up in Venice.
Which isn't even Venice, by the way, in director Ethan McSweeny's vision of the play. No, he's transplanted it 1920s New York, which designer Andrew Lieberman renders in an oppressive, sprawling two-level set that works well enough for Little Italy and Lower East Side scenes but not so much at Portia's place, which sure could use a more lighthearted look to remind us that there is supposedly comedy around here somewhere, after all.
To July 24 at Sidney Harman Hall, 610 F St. NW. Tickets are $20 to $98. Call 202-547-1122 or visit shakespearetheatre.org.