By day, Sajdah Golde is a field organizer with the L.A. Gay & Lesbian Center's Vote for Equality initiative, canvassing neighborhoods that voted for California's anti-gay-marriage Proposition 8 in 2008.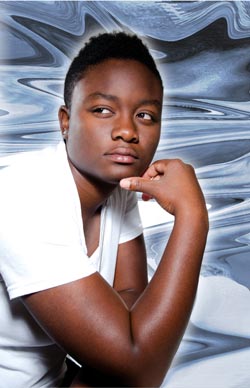 Sajdah Golde
(Photo by Julian Vankim)
"They call it homophobia, as if folks fear gay people," says Golde. "When you think about any other fear, you're taught to face your fears. So if we meet someone who's homophobic, we stand right in front of them and tell them about what life is like to be an LGBT person and our desire to marry, and we talk to them about their own experiences with LGBT people and their experiences with marriage. We have a truly grounded conversation. It really helps them to be more supportive of same-sex issues as a whole."
Golde's activism is a direct result of living in D.C. for four years through last summer, as she earned a bachelor's degree in political science and business administration at Howard University. "I'm an East Coast girl," laughs Golde, who grew up in Raleigh, N.C. "I didn't move to Hollywood and lose my mind."
But Golde did move to Hollywood and became a star. By night — at least Sunday nights — the 24-year-old is one of the seven lesbians featured in season two of Showtime's reality series The Real L Word.
She's thoroughly loving the experience. "I get to meet some really incredible people. There are folks who can see themselves in my story — it's bringing them relief."
In fact, the show seems to have helped Golde's mother back in North Carolina "go through her own coming-out process" in accepting her oldest child as a lesbian. Golde only came out last year. "Young people are coming up to my mother asking her how I came out to her, in hopes of finding advice on coming out to their parents. My mother even had a friend who just came out to her parents after watching an episode. And she immediately came back to my mom and told her she had finally come out."
Golde doesn't let the pressure of being the first African-American cast on the reality series get to her. "People tune in every Sunday because they want to know my story, not because they want to know the story of every black lesbian that's ever lived," she says. "Because if that's what they're looking for, they'll never find it. Because there's no way I could do it."
Last weekend, Golde returned to her D.C. roots along with Whitney Mixter and Romi Klinger for Karen Diehl's popular lesbian party Bare at Cobalt. "I like to say that D.C. turned me out," says Golde. "D.C.'s very much responsible for my desire to be with women."
But Golde had not actually fallen in love until she moved to L.A. and started taping The Real L Word. Because there are still three episodes left to the series, Golde can't talk about the current or even future state of her relationship with Chanel, currently in a rocky place on screen. But meeting Chanel has been an impetus in her activism specifically for marriage equality.
"I fell in love this year for the first time ever," she explains, "and knowing what that feels like, that's something that I want to stay in. Love is a beautiful thing."
Golde, whose passion definitely remains in activism, hasn't been bitten by the acting bug. "I don't know if I can act," she says. "I'm perfect at being me. I'm not sure I can be anyone else."
The Real L Word airs Sundays at 10 p.m. on Showtime. For information on how to subscribe, visit show.com. Watch Ebone Bell's video interview with The Real L Word's Whitney Mixter at youtube.com/MetroWeekly.