Welcome back to the Chinquapin Parish of Steel Magnolias. Nothing's changed in this neck of the woods in Louisiana since the last time you were here. Truvy's carport-turned-salon is open for business as usual on the wedding day of doomed, pink-loving Shelby. "There is no such thing as natural beauty" is still Truvy's guiding philosophy. The sanctuary still looks like it's been "hosed down with Peptol-Bismol," reports Shelby's on-edge mother, M'Lynn. Gay men are still distinguished by the fact that they all have track lighting and are named Mark, Rick or Steve.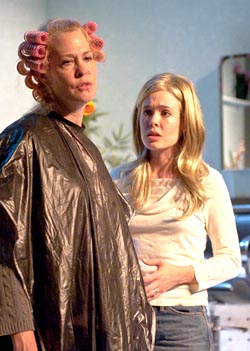 Steel Magnolias
(Photo by Jim Coates)
Yes, the local color is as colorful as ever in Robert Harling's 1987 play, an off-Broadway hit that became a box-office smash on the big screen in 1989 with Sally Field, Julia Roberts, Olympia Dukakis, Shirley MacLaine and Dolly Parton.
Alas, Keegan Theatre's revival of Steel Magnolias doesn't make a convincing case that Chinquapin Parish is a place that bears revisiting. Once these broad Southern caricatures (and their hooty dialogue) have made an indelible impression, the memories are enough to sustain you and allow time for other destinations on your theatrical itinerary.
Unless, that is, you're a comfort-food junkie. In which case, Keegan has whipped up a confection that's about as complex and flavorful as Clairee's recipe for "cup-a cup-a cup-a" (you know, a cup of sugar, a cup of flour and a cup of fruit cocktail — "with the juice" — baked till golden brown and served with ice cream "to cut the sweetness").
As Truvy, Larissa Gallagher opens the play on a belabored tone that permeates the evening like a lingering cloud of Aqua Net. She looks fabulous in the first of several gaudy-glam ensembles created by costumer designer Erin Nugent, but she sounds as though she's putting more effort into her accent than into her character.
And what an accent it is! In fact, among the play's six actresses, there are six different accents, and if any one of them is accurate to the northwest Louisiana region where Harling sets the play, who would know it? Surely the area isn't that multi-Southern-cultural.
Gallagher's first-scene mate, Brianna Letourneau, fares better as Annelle, the hangdog young woman Truvy takes under her wing as an assistant. Granted, Annelle — struggling to find her way in the world after being abandoned by her wanted-criminal of a husband — could be the play's only truly under-the-top character. But she is nonetheless a caricature, one who — over the course of four scenes — finds herself, then finds Jesus, and provides exceptionally touching words in the wake of the plot's tragic turn at the end. Letourneau gracefully navigates Annelle's progression, and does so with one of the least-distracting accents in the ensemble.
STEEL MAGNOLIAS


To Aug. 21
Keegan Theatre
1742 Church St. NW
$30-$35
703-892-0202
keegantheatre.com
Keegan is keen on the fact that the mother-daughter characters are portrayed by an actual mother-daughter combo: Sheri Herren as M'Lynn and Laura Herren as Shelby, the morally pure young woman with a body too frail to sustain a battle with diabetes. But there is no remarkable chemistry or connection that comes through in the pairing. Laura Herren's Shelby is perky and pouty-spoiled, except for when she's doing something saintly, like giving up some of her best pink Sunday outfits for a needy women's clothing drive.
Director Mark Rhea plays up long, knowing glances between Shelby and M'Lynn, which doesn't do Sheri Herren any favors. She's stays on a strangely subdued plane throughout the play, perhaps to contrast with her emotional explosion in the last scene, after Shelby's death.
Not that M'Lynn is meant to be comic relief in the way that Truvy, rich-and-crotchety Ouiser (Linda High, quite loud) and political widow Clairee (Jane Petkofsky, quite forgettable) are. But even Sheri Herren's hair is underplaying it up there. A character described by her daughter as having a "blonde football helmet" is not a woman of this much subtlety. And when the show credits an "official stylist," Craig Miller, in a huge, fuchsia-bordered text box in the program, her droopy do won't do at all.
No, Chinquapin Parish just isn't what it used to be. But again, if you've been there once, you've seen it all before.