Hundreds of friends, family and members of D.C.'s LGBT community gathered for a vigil on Saturday, July 23, marking and mourning the death of Lashai Mclean.
Police have made no arrests in the slaying of Mclean, who was shot to death Wednesday, July 20, but are on the lookout for "two African-American males." Before the event, Assistant Chief Diane Groomes told Metro Weekly the police are getting valuable information from the community.
"There's been no arrest but we've been getting some leads, and we're hoping with today, passing out flyers, there will be more," she said.
"Brian [Watson from Transgender Health Empowerment] and everybody in the other organizations have been really helpful too," said Groomes, who still noted that police have "no solid lead" at this time. "I think with what happened we're going to get it, because it's just crazy to shoot someone for no reason."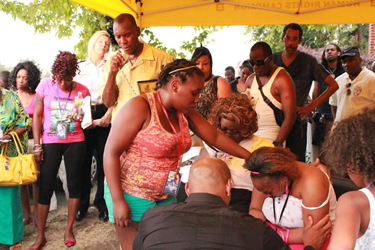 Lashai Mclean's mother weeps as gatherers comfort her
(Photo by Dylan Comstock)
According to Groomes, MPD is in contact with the transgender woman who was with Mclean at the time Mclean was shot. The woman, who fled the scene on foot, has not been identified by MPD as the investigation is pending.
"Right now all we know is that two guys did approach Mclean and words were exchanged and then all of a sudden gunshots," Groomes added. "So we don't know if it was a robbery or a hate crime, or exactly what was said."
The vigil drew hundreds to 61st and Dix Streets, NE, near the scene of the shooting. The emotions of the evening spilled over near the end, when Mclean's mother had difficulty breathing and family members yelled for help while police cleared the way for an ambulance.
Those gathered at the vigial included Jeffrey Richardson, head of the Mayor's Office of GLBT Affairs.
"It's a tragic situation and it reminds us all of the work that we still have to do and how far we still have to go in regards to folks just being able to live their lives, express themselves and just be present in the world" Richardson said.
"It's a reminder that we cannot leave the transgender members of our community to the wayside, whether it's on policy issues or safety issues. … We have to stand together as a full community."
The vigil was organized by Transgender Health Empowerment (THE) and the DC Trans Coalition.
"We come together as a community to give our deepest condolences to the family who is here with me and also for our community who has lost one of our own," said Earline Budd, healing and treatment specialist at THE, where Mclean was a client.
A.J. Singletary, chair of Gays and Lesbians Opposing Violence (GLOV), called the loss "tragic."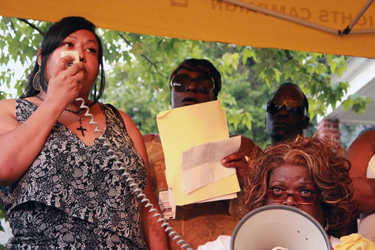 Ruby Corado (left) and Earline Budd
(Photo by Dylan Comstock)
"I didn't know Shai personally but obviously from the turnout today you can see how much of an impact her life has had on everybody else's," he said. "That's what gets us in the heart, the impact she had."
Others in attendance included David Mariner of the DC Center, Rick Rosendall of the Gay and Lesbian Activist Alliance, and several MPD officers. Sgt. Brett Parson, who once headed the police department's Gay and Lesbian Liaison Unit before it underwent a controversial reorganization, also addressed the audience.
Ruby Corado of the DC Trans Coalition said she and Budd "have been through this too many times." She recalled the last time she saw Mclean.
"My heart is happy because a few weeks before Shai passed, I saw her and she was full of life. She was happy as hell and we were talking for a little while, and I'll never [forget] when she said 'I'm trying my best."'