"I'm loving seeing the mix in the crowd we get," says Nikolas Groshans. "The people are from all different backgrounds, they're different sexes, they're different sexual orientations. And they're all comfortable with each other. To me it's a true reflection of the world that we live in today."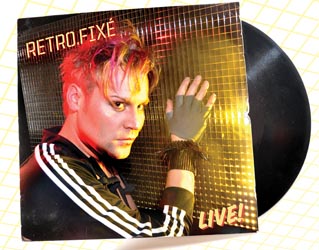 Nikolas Groshans
(Photo by Todd Franson)
He pauses, before adding, "It's just funny that it takes retro music sometimes to do that."
The promoter behind Retro.Fixé at Tattoo Bar, Groshans decided to focus his Wednesday night gay party, which launched during Capital Pride, on the '80s and '90s. But Retro.Fixé isn't like the retro parties of old.
"Tattoo Bar has massive video screens surrounding the bar and the dance floor," he says. "When you're standing in the middle of the dance floor, you see images of Duran Duran and Madonna, or Flock of Seagulls, as you hear their music." But the music, courtesy of DJ Benny C, who Groshans calls "one of the best video artists on the East Coast," is also mixed and mashed up. You won't just hear "Hungry Like The Wolf," for instance, as if on the radio or MTV. You'll experience it a whole new way.
"Even though what you're hearing and seeing is older material," Groshans says, "we're remixing it and repackaging it and mashing it up. It's presented in a totally fresh way every week." And every week is fresh, too, with a particular thematic focus. This Wednesday, July 27, for example, Retro.Fixé offers the Prince-themed "Party Like It's 1999," to be followed on Aug. 3 with an early electronica fan's delight — a party featuring older music from New Order, Depeche Mode and The Cure. And every party features some type of live performance, be it vocalists or drag queens and kings.
"I like to push the envelope with my party, sometimes I like to be a bit over the top," says Groshans. The 32-year-old has been a fixture on the club scene since he was in high school, sneaking in to the old Tracks. In addition to helping out and performing as a singer with Capital Pride and Youth Pride in the late '90s, Groshans quickly befriended and started assisting several of the major promoters in town. He got involved in club promotions while living in Miami for a year at the turn of the millennium.
Over the past decade, Groshans has nurtured a successful D.C. real estate career. But he couldn't say no when the folks at Tattoo Bar contacted him to start and host a weekly gay party.
"It's a very cool and visual space," Groshans says of Tattoo. "It's got a Euro-chic vibe, but it's also a little grungy too, very rock and roll. It's very comfortable." It's also an intimate space, with a capacity of just 270. Groshans adds: "We have the hottest bartenders in town." Literally. "One of them breathes fire."
Retro.Fixé is a party geared to the LGBT community, though Groshans shies away from marketing it as such. "I've never been a person that subscribes to limitations," he says. It is the first in-house gay-geared party for Tattoo Bar, whose owner Michael Romeo also owns several other venues, including the nearby Lotus, the former 1223 space now called Dirty Martini and Fur Nightclub. Groshans will launch a second gay party at another Michael Romeo property soon, and will also start a gay pool party at another venue to be announced. And he's still working full-time at his Long & Foster-affiliated agency.
"I get very little sleep," he laughs. "That's how it tends to work."
Retro.Fixé is every Wednesday at 10 p.m. at Tattoo Bar, 1413 K St. NW. Cover is $5 after 11 p.m. Various drink specials available, plus VIP guest list and bottle service. Call 202-408-9444 or visit tattoobardc.com or facebook.com/Retro.Fixe.