Today, GOProud announced that Ann Coulter would be serving as the honorary chair of the group's advisory council. The move comes as the latest in a back-and-forth skirmish between GOProud and Log Cabin Republicans, which this past week criticized a recent Coulter TV appearance.
Coulter, in an interview with Joy Behar, started the latest skirmish between the two groups when she commented on questions about the "reparative therapy" practiced at Marcus Bachmann's psychology clinic, saying, "There are some people who aren't — maybe they weren't really gay to begin with, maybe they were molested as children. There are people who go that way. For liberals who think that every sort of polymorphous perversity is normal, who can't imagine that you can go from being gay to being straight, it happens. It does happen."
Christopher Barron, GOProud board chairman, told Metro Weekly that nothing in Coulter's statement suggested that some people are not born gay and pointed to a C-SPAN appearance in which Coulter talks about people being born gay and said, "If you're born gay, why would you be a liberal? Are you born liberal?"
Barron also said in a news release announcing Coulter's new role, "Ann Coulter is a brilliant and fearless leader of the conservative movement, we are honored to have her as part of GOProud's leadership. Ann helped put our organization on the map. Politics is full of the meek, the compromising and the apologists — Ann, like GOProud, is the exact opposite of all of those things. We need more Ann Coulters."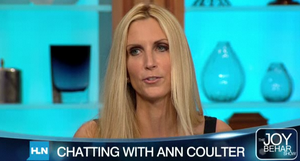 In the Behar interview, when asked about New York's passage of marriage equality, Coulter — who headlined GOProud's "Homocon" event in New York City in 2010 — said that if she were to say something good about it, it would be that "[m]aybe they will shut up about it," adding, "I wan't 'Don't Ask, Don't Tell' for all of society."
When Behar pushed her on that point, Coulter said that she did support "Don't Ask, Don't Tell," noting, "I not only don't want open gays in the military, I don't want open girls in the military. That's the issue I told the conservative gays to take up."
Asked who she wants in the military, Coulter said, "Heterosexual men. The same sort of men who can be firemen."
Of the end of DADT, which comes Sept. 20, she said, "I don't think this is going to help military preparedness. It's a fad among liberals."
Barron, talking with Metro Weekly today, said of Coulter's position on DADT repeal, "We disagree. We're not the pod people. Everybody doesn't have to agree with each other 100 percent."
Coulter's appearance, however, brought LCR out, with LCR executive director Clarke Cooper issuing a statement saying, "Ann Coulter is not a serious part of the conservative movement — her positions are a throwback and do more harm than anything else. Her remarks endorsing the widely outdated and profoundly harmful idea of 'reparative therapy,' alleging that one can 'pray the gay away,' are not only demeaning to gays and lesbians, but are offensive to all people of faith."
He added, "While her position on this matter is off base, it is exacerbated by her claim that the armed forces should bring back 'Don't Ask, Don't Tell,' a failed policy which impedes military readiness. Servicemembers who put their lives on the line deserve respect, not such clownish behavior."
LCR headlined the news release as a "statement on comedienne Ann Coulter."
Today, though, GOProud focused in its release on Coulter's past, noting that she received a law degree from the University of Michigan Law School, where she was an editor of the Michigan Law Review. The release also noted that Coulter clerked for the Honorable Pasco Bowman II of the U.S. Court of Appeals for the Eighth Circuit and was an attorney in the Department of Justice Honors Program.
Coulter joins Margaret Hoover, Grover Norquist, Andrew Breitbart, Liz Mair, Chuck Muth, Lisa De Pasquale, Christian Josi, Roger Stone, Andrew Langer, Kathryn Serkes and Bob Carlstrom on the GOProud advisory council.
In the GOProud statement, Coulter said of her new role, "I am honored to serve in this capacity on GOProud's Advisory Council, and look forward to being the Queen of fabulous."