Following her straw poll win in Ames, Iowa, Minnesota Rep. Michele Bachmann (R) sat down with CNN's Candy Crowley, who asked if the Republican candidate for president would reinstate the "Don't Ask, Don't Tell" military policy if elected president.
"The 'Don't Ask, Don't Tell' policy has worked very well," Bachmann replied. "It worked very well, and I would be in consultation with our commanders, but I think, yes, I probably would."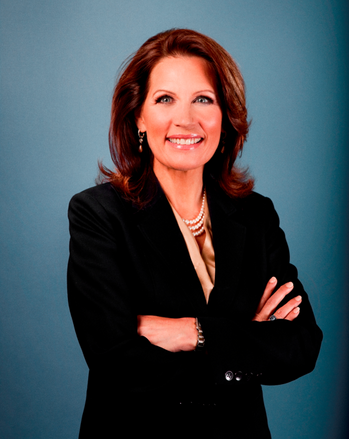 Although Congress passed legislation to repeal the statutory provision in the U.S. Code – 10 U.S.C. 654 – that mandated no open gay, lesbian or bisexual service, several LGBT leaders took note of Bachmann's comment – pointing out that the military had a policy of no gay service whatsoever prior to the passage of DADT in 1993.
In other words, because the 1993 law has no requirement that gay, lesbian and bisexual servicemembers can serve openly, Bachmann effectively could reinstate the policy.
Aubrey Sarvis, executive director of the Servicemembers Legal Defense Network, talked with The New York Times about the possibility.
James Dao reported, "Sarvis said that if a Republican president were to take that path, it would essentially return the military to the pre-don't ask era, when gays were banned under regulation."
Aaron Belkin, director of the Palm Center, said in a statement, "Congresswoman Bachmann has a consistent approach to fixing the problem of gay people, first with so-called 'reparative therapy' and now with the reinstatement of the military's ban on openly gay service.
"She has stated that as President, she would turn back the clock to prevent gay and lesbian troops from serving honestly, ignoring the conclusions of senior military leaders, the Pentagon Working Group and foreign forces, all of whom find inclusive policy to be no big deal. Under Representative Bachmann's proposal, the U.S. Armed Forces would become the first nation in the world to undo the repeal of a gay ban."
Dao noted, however, "Sarvis said he believed that reinstating the ban would be difficult, in large part because senior military leaders prefer continuity in policy and would not have much appetite for reversing course so quickly."
Belkin, along with a Palm Center colleague, Diane Mazur, went a step further in an op-ed published at The Huffington Post on Aug 16, writing, "There were always two ways to end 'don't ask, don't tell' (DADT). Congress could repeal the law, or the courts could find it unconstitutional."
Discussing the Log Cabin Republicans v. United States case, which is on appeal before the U.S. Court of Appeals for the Ninth Circuit, they note, "Congress's DADT Repeal Act does nothing to ensure equal treatment of gay and lesbian troops." Because of that, they argue, "Until that question is definitely resolved, Log Cabin should not be dismissed as moot" — or, tossed out by the court because the repeal has happened.
That question, as well as the overall trial-court ruling striking down DADT as unconstitutional, will be considered by the Ninth Circuit on Sept. 1 – just less than three weeks before the DADT statute will be repealed.