"It's so rare these days that we have the opportunity to celebrate LGBT literature," says David Mariner of The Center, D.C.'s LGBT community center. "We've seen so many of the LGBT bookstores close down in recent years."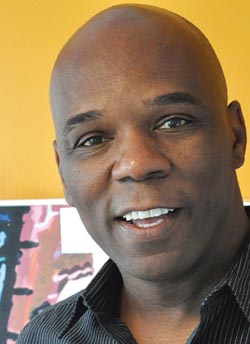 Aaron Anson
Under Mariner's direction, The Center will launch its inaugural OutWrite Book Fair this Saturday, Aug. 6. It's part of The Center's growing arts program, and builds on the regular OutWrite author events The Center has hosted over the past couple years.
The fair was partly designed with people like Aaron Anson in mind. The self-published author of Mind Your Own Life, Anson says OutWrite and other events like it help fill a void.
"The gay black male portion of the gay community as a whole — I think that part has been consistently underrepresented," says Anson, who will read from Mind Your Own Life.
All told, the daylong OutWrite Book Fair will feature seven author readings, plus poetry events and literary discussions, including a chat about D.C.'s LGBT literary history with, among others, Deacon McCubbin and Jim Bennett of the former Lambda Rising bookstore.
Mariner also singles out the Saturday night celebration of Jewish lesbian poetry, based on a new poetry collection by local editor Julie Enszer.
And then there's "the naughty adventures of Mullah Nasruddin and his hairy ass" — The Center's playful title for a reading by Ron Suresha, who will share bawdy, queer Turkish folk tales and jokes.
Book vendors from around the country will be selling LGBT-themed books, in addition to used books on offer from The Center. Fairgoers are also encouraged to bring their own books to donate to The Center's lending library, or a food item to donate to the Wanda Alston House.
"It's [already] bigger than I was expecting," says Mariner. "We're all going to be packed into the D.C. Center."
The Center's OutWrite LGBT Book Fair is Saturday, Aug. 6, starting at 11 a.m. The Center, 1318 U St. NW. For more information, call 202-682-2245 or visit thedccenter.org or outwritedc.org.