The National Council of La Raza, the nation's largest Hispanic civil rights organization, and the Gill Foundation, which advocates for LGBT equality, joined to honor Catherine Pino of Falls Church for her efforts in advancing civil rights, at a July 25 reception.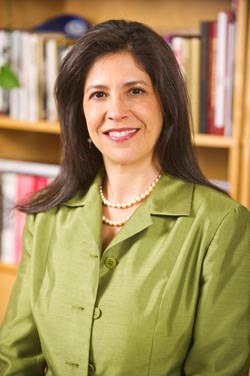 Pino
Pino is co-founder of D&P Creative Strategies, a progressive consulting firm, and has also served as a board member for the Congressional Hispanic Caucus Institute (CHCI) and the Gay & Lesbian Alliance Against Defamation (GLAAD).
"NCLR appointed me to their board at the beginning of the year and they made a conscientious decision to appoint an open lesbian to their board, which is huge in the Latino community," Pino said, speaking to Metro Weekly.
"Homosexuality is usually a taboo subject in our community and so I've worked most of my adult life really trying to bridge the two communities," she added.
Speaking of the July 25 reception, Pino called the event "an incredible honor."
"What was so beautiful was that we had over 200 people that came, and not just LGBT people, lots of allies and lots of Latinos. … It was really special."
Ingrid Duran, Pino's partner in business and life, introduced Pino at the reception.
Pino says the two launched their consulting firm "to change the world."
"We started a business. People thought we were crazy. We wanted to give back to the communities we cared about, which is the Latino communities and the LGBT communities, so that's what we're doing."
Those efforts include working with the Human Rights Campaign, as well as La Raza and GLAAD.