Former Army Lt. Dan Choi, the prominent "Don't Ask, Don't Tell" repeal advocate currently facing a charge of failure to obey an order by a police officer in federal court, told his lawyer, Robert J. Feldman, to reject a last-minute offer from the U.S. Attorney's Office to avoid prosecution, an e-mail between Feldman and Assistant U.S. Attorney Angela George reveals.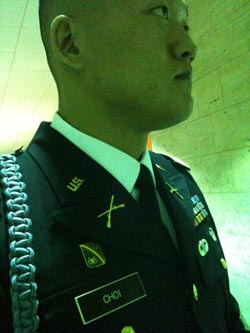 According to an e-mail forwarded by Feldman to Metro Weekly, government prosecutors presented Choi with an offer for deferred prosecution on Friday evening, Aug. 26. Under the offer, the government would agree to dismiss the charge against Choi as long as he avoided arrest for four months.
On Friday evening, Choi sent a message from his Twitter account saying, "My lead attorney, Robert J. Feldman, got a call today from the federal prosecutor's supervisor. They made us a new offer. We laughed."
Feldman said he received the offer at 4 p.m. orally, and asked for it in writing. He received the e-mail later that evening.
"They demanded that I answer by 12 a.m.," Feldman said. "I said, 'I'll give you my answer after I speak to my client.' When I met with Dan, he immediately said, without a moment's hesitation, 'Capital "N," capital "O.""
Feldman said Choi wanted the charges to be dismissed and for the U.S. government to offer him an apology in open court on the record, so that other citizens would be able to know about it.
Feldman said, even more specifically, that Choi wouldn't accept an apology unless it was from Randy Myers, assistant solicitor general at the Department of Interior. It was Myers who advised U.S. Park Police to pursue the federal charge of failing to obey a lawful order, according to internal e-mails provided by the prosecution to the defense that were posted by Jane Hamsher — a supporter of Choi's — on Firedoglake on Monday, Aug. 29. Feldman said Choi also would accept an apology from a higher-level government official.
Feldman said he would call on Myers to testify Wednesday morning, Aug. 31, to ask him why the government pursued federal charges against Choi rather than trying him in D.C. court, where the charges for his prior two protest-related arrests had been brought.
The charges Choi faces now stem from his arrest on Nov. 15, 2010, after he and 12 other LGBT activists chained themselves to the White House fence to protest the military's "Don't Ask, Don't Tell" policy, which bans gay, lesbian and bisexual servicemembers from serving openly.
Read Metro Weekly's coverage of Choi's federal trial:
Read the full email offer to Choi below the jump.
Additional reporting provided by Chris Geidner.
[Photo: Choi (Photo by Chris Geidner.)]
* * *
From: George, Angela
Date: Fri, 26 Aug 2011 22:22:10
To: Robert Feldman
Cc: Guerrero, Gilberto
Subject: US v. Daniel Choi
Robert,
As promised, I am sending this email to memorialize our discussion earlier today regarding the government's offer of your client entering into a deferred prosecution agreement. We are interested in knowing if your client will agree to defer prosecution for a period of 4 months from 8/29/11. If he refrains from getting arrested upon probable cause during that period, the government will dismiss the case.
Please let us know whether he will accept this offer by 12 pm tonight.
I can be reached on XXX-XXX-XXXX, and Gil can be reached on XXX-XXX-XXXX.
Thanks.