While former Lt. Dan Choi has already spent a day in federal court for the charge of failing to obey a lawful order by a police officer, things are moving at a pace that left Choi's defense guessing that the bench trial may take three days.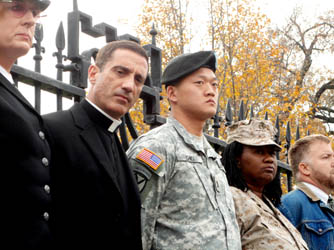 Choi, who has gained a national reputation as a prominent figure in the fight against the military's "Don't Ask, Don't Tell" policy, was arrested with 12 other activists on Nov. 15, 2010, after the group chained themselves to the White House fence to protest the Obama administration's lack of action on repealing the military policy. Under "Don't Ask, Don't Tell," which was repealed in late December 2010, members of the military could be investigated and discharged on the suspicion that they were homosexuals.
Choi's lawyer, Robert Feldman, said he would try to move quickly tomorrow, but because the prosecution has not rested its case, and because of testimony that implicated other potential law enforcement officers who could be called as witnesses, the trial might spill over into a third day.
The prosecutor representing the government, Angela George, called six witnesses, all U.S. Park Police officers, to testify against Choi. George argued that Choi could be found guilty of failing to obey a lawful order because his conduct could be considered disorderly, or because the group he was involved with did not have a permit to demonstrate on the sidewalk in front of the White House. At the close of the day, George said she had at least one more witness to call before finishing her arguments.
Most of the prosecution's witnesses testified that Choi and his fellow protesters failed to obey orders after U.S. Park Police gave them three warnings to "get off the sidewalk" or face arrest.
On cross-examination, Feldman questioned whether Choi was technically on the sidewalk or a ledge when he was chained to the fence, thereby not disobeying police orders. He also questioned whether Choi's conduct posed a threat to others, obstructed traffic or prevented emergency responders from doing their job, which would be required for his conduct to be considered "disorderly."
After being dismissed for the day, Choi and Feldman held a news conference outlining their major arguments against the charges.
First, they suggested that by bringing federal charges against Choi, the government was treating him differently from other people who have protested in front of the White House in previous years. Feldman referred to the testimony of one witness, a 22-year veteran of the Park police, who said Choi's case was the first time he had been to federal court, rather than D.C. Superior Court, to testify against a protestor he had arrested.
Choi has been arrested three other times for similar actions, most recently during an environmental protest on Aug. 20. After that arrest, as well as one in March 2010, he was charged in D.C. Superior Court.
Because he is being tried in federal court, if Choi is found guilty, he could be forced to pay a fine or spend up to six months in jail.
Feldman said Choi's defense would focus the fact that they argue that his behavior failed to meet the standard for disorderly conduct under U.S. Park Police regulations. He also said that, due to the chants of protestors, the sounds of the crowd watching the arrest, and a few other people on bullhorns, Choi, who also has hearing loss from his duty in Iraq, would have had difficulty hearing the police warnings.
"This is the 'Shuttlesworth' of the 21st century," Feldman told a small group that had gathered for the news conference, referring to the 1969 Supreme Court case Shuttlesworth v. Birmingham. In that case, an African-American minister was arrested for leading a civil rights march through Birmingham, Ala., because he had not obtained the proper permit. The Alabama Supreme Court had initially interpreted Birmingham city statutes and ruled that the arrest was legitimate because the march was a traffic obstruction, a decision that was overturned unanimously by the U.S. Supreme Court.