"Hey baby, what's your hurry? Relax and don't you worry," Barbra Streisand sings on her new album. "We're gonna fall in love."
Honestly, when was the last time you heard Streisand hurry? There was her disco duet with Donna Summer, "No More Tears (Enough Is Enough)." But 1979 was a lifetime ago.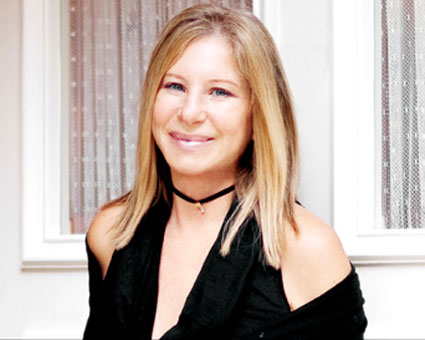 Barbra Streisand
And don't worry? If you were ever a Streisand fan, you've probably worried a lot over the years, and fallen out of love. Her output, especially in the past decade, has been woefully uneven, sometimes even painful. Though her voice, a national treasure, always sounds great, the notorious perfectionist labors over every note. She makes sure everything is in its exact right place, to the point that there's very little life left in each song – mostly just canned emotion – certainly no room for surprise. It's so overdone, it's stultifying. The last thing you want to do is listen to it again – unless it's to accompany sleep.
But this time? You can, in fact, relax. What Matters Most is a breath of fresh air. Streisand sounds eager and enthusiastic, even expressing unguarded emotion here and there. And the new set benefits from a light touch with musical direction. The strings really sing, the horns really blow, the percussion swings. Unlike, say, 2009's standards set Love Is The Answer, What Matters Most channels classic – and not smooth – jazz. It makes you feel alive. If nothing else, you stay awake.
Ultimately, it sounds like classic Babs. The deluxe edition even includes previously recorded versions of some of Streisand's biggest hits: "The Way We Were," "You Don't Bring Me Flowers" and "Papa, Can You Hear Me?" among them.
And that points to another reason this set works: The focus is on songs with lyrics by Alan and Marilyn Bergman, Streisand's longtime collaborators. Such a narrow focus on high-quality material from one source helps give the set a sense of cohesion. All the songs just sound right together.
And though here as ever the songs move at a leisurely pace, and she chews over the lyrics and her phrasing, none of the songs become dull, or unintentionally droll. "Nice 'N' Easy," for example, isn't as lively as the version popularized by Frank Sinatra, of course, or really any other versions you've probably heard (not Michael Bublé's, not Natalie Cole's). Ultimately, few of the many who've covered the tune (including Alan Bergman himself) have taken it as, well, nice and easy as Streisand does here, stretching out her words, luxuriating in the sounds she's making, acting out the song's message. She even softly croons along with the horns in the bridge, as if the moment is too good not to savor, and she just couldn't hold back. It's a sweet development.
What Matters Most opens with Streisand singing a cappella, adding drama to an already dramatic song: "The Windmills of Your Mind," which won the Oscar for Best Original Song in 1968 for Noel Harrison's original version, appearing in the original The Thomas Crown Affair.
BARBRA STREISAND
What Matters Most
Columbia
$9.99




Out Aug. 23
"Like a circle in a spiral, like a wheel within a wheel," Streisand sings, "never ending or beginning, on an ever spinning reel." Gorgeous but restrained violins eventually join to serenade Streisand as she effectively cries over a fading love.
By the album's next song, Streisand has already picked up the pieces and moved on. "You're like a sudden breeze that blew in my life," she sings on the tender "Something New In My Life." "And now I know I wanted you in my life all along." She sings the song with conviction, almost getting carried away with her happy emotions. Her naive swooning over new love can be a bit much to take, especially given that she's a wise 69 years old. "Say goodbye? I can barely say goodnight," she sings on "I'll Never Say Goodbye." "If I never leave your arms, I really will have traveled everywhere. For my world is there." What a small world that is.
Still, you can't fault her for expressing real feelings this time out. Chances are you won't be ready to say goodbye to Streisand's world in What Matters Most – 10 songs in 40 minutes go by a little too nice and easy. "It's not how long we held each other's hand," she sings on the title track. "What matters is how well we loved each other." Ah, memories.