Gay comedy in D.C. has a new and improved home.
"We're hoping that it catches on like the shows we used to do in the past, and becomes a staple amongst the gay community," says Zach Toczynski, whose "Gaylarious" monthly night of standup starts at the new Chinatown location of John Xereas's Riot Act Comedy Club next Wednesday, Sept. 7.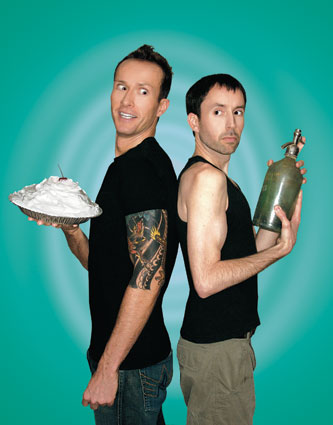 Gaylarious: Zach and Chris
(Photo by Todd Franson)
Chances are, it will catch on in a big way. The new Riot Act venue is three times as large as the original, which was set in the small basement of the jazz club HR-57 when it was located on 14th Street. Toczynski and Christian Doucette started Gaylarious there in 2007, and it ran until the venue closed the next year.
Toczynski calls the new Riot Act space, with seating for 300 people, "the premiere club in Washington, D.C., for comedy. With the extra space, we're going to bring in a lot more talent, and give more opportunities for local gay and lesbian comics as well as bring in bigger national names." Among those on tap to headline Gaylarious shows are Judy Gold in October and Jason Stuart in November.
Next week, Tocyznski and Doucette will co-host a show featuring two New York comics, Claudia Cogan, a semifinalist from season seven of Last Comic Standing and Brad Loekle from Sirius OutQ and Tru-TV Presents: World's Dumbest.
Every Gaylarious event will be preceded by happy hour events at the club. "We have some surprises up our sleeves with the happy hours," says Toczynski, who notes that they're developing their own drink specials. "My drink is going to be called Strong and Trashy, made with vodka and a bunch of other shit that will get people drunk."
Gaylarious is the first Wednesday of every month, including Sept. 7, at 8 p.m. Riot Act Comedy Theater, 801 E St. NW. Tickets are $15. Call 202-697-4900 or visit riotactcomedy.com.