"It's one of the great gay musicals of all time," Gordon Greenberg asserts of Guys and Dolls. No, there's nothing gay per se about Frank Loesser's Tony-winning 1950 musical, about gambling and decadence. But Greenberg, director of Wolf Trap's production, rattles off what he sees as its gay appeal.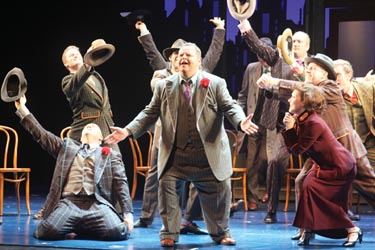 Guys and Dolls
"It has lots of intelligent humor, which I think is often the province of the gay community," says Greenberg, who is gay. "And it has lots of scantily clad girls stripping, which certain segments of the gay community will enjoy more than others. And it has incredibly hot, capable, flexible dancers, doing some thrilling choreography."
What gay doesn't love that?
Furthermore, Greenberg says Guys and Dolls "is a celebration of Broadway and…glamour." Greenberg was brought on to re-imagine the short-lived 2009 Broadway revival, which was criticized for being somewhat dull and lifeless.
"We've added a lot," he says. "Taking you back to its high-Broadway glitz. It's a big, splashy musical comedy." Plus, "it stars some of the best and hottest and most exciting young Broadway talent," says Greenberg, noting in particular Steve Rosen (Spamalot) and Erin Davie (A Little Night Music).
Greenberg was once a young Broadway talent himself, having starred in his first Broadway show, The Little Prince and the Aviator, at age 12. The native New Yorker even started directing shows while still in high school, courtesy of a "definitively apathetic" high school drama teacher.
Greenberg currently has a lot of projects in development, both as a writer and director, including a revamp of Yentl with Jill Sobule and a television series inspired by Band Geeks, his musical about a marching band that ran last year at a prominent Connecticut theater.
But he's perhaps most passionate about the Broadway Teachers Workshop, an organization he founded 12 years ago to annually bring high school theater teachers to Broadway. The goal is to help them stay connected and engaged in the community, counteracting the type of apathy that afflicted Greenberg's teacher. Says Greenberg: "Teachers need to feel important."
Guys and Dolls runs Thursday, Aug. 11, through Sunday, Aug. 14. Wolf Trap, 1645 Trap Road, Vienna. Tickets are $20 to $80. Call 703-255-1900 or visit wolftrap.org.