Kelly Rowland is a tease.
Take a few headlines over the past year as evidence. "Kelly Rowland Tries Disco for Third Album." "Kelly Rowland's Album Set to Cement Move to Dance Music." "Capital Pride Alliance Announces Headliner Kelly Rowland."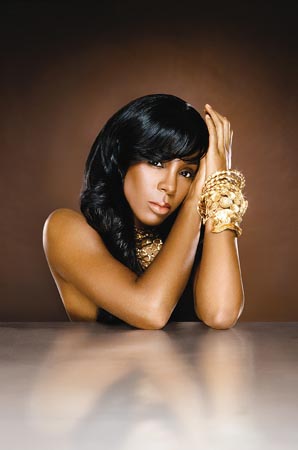 In the end, none of those things happened. Rowland, of course, bowed out as this year's Capital Pride headliner weeks before the festival — she just couldn't pass up the opportunity to be a judge on the British reality show X Factor. I don't begrudge her for that — anyway, Jennifer Holliday was more than fine in her stead — but it didn't exactly increase the gay love for her, either.
As for the other headlined teases: Rowland may have tried disco, but there's little trace of it on her new third album, Here I Am. And that move to dance music? Well, the good news is she hasn't moved away from dance music. Yet her 4/4 passion is hardly written in stone. As she put together Here I Am, Rowland teased the public by previewing a couple of new dance tunes. But in the end dance music only powers the last two tracks on the new album, and only one of them is new. The David Guetta-produced rouser "Commander" was a Song of Summer contender last year, for God's sake.
If only Rowland had appeased and not teased us, we'd be singing her set's other dance track right back to her: "I'm down for whatever, when it comes to you."
In "Down for Whatever," produced by Lady Gaga's right-hand-man RedOne, Rowland also sings: "I'm amazed, by you all. You bring out a side I didn't know." Sadly, whatever side that is remains a mystery to listeners.
Despite her beginnings in boisterous hip-hop-flavored pop and her more recent run as a lovely, lusty dance SweeTart, Rowland's real inclination seems to be as a low-boil R&B singer. Despite its declarative title, Here I Am is ultimately not that different from Rowland's last set, 2007's Ms. Kelly — or even her 2002 solo debut, Simply Deep. Her lyrics may be a bit more sexual, and the tempo is generally faster, but the majority of Here I Am is the same sort of steamy R&B that didn't quite work for her before.
This time around, Rowland took at least a year longer than intended, and saw many producers come and go. She also shucked two R&B tunes that flopped when previewed as lead singles (the Ne-Yo-penned "Grown Woman" and "Rose Colored Glasses"). But the constant tinkering is succeeding: Rowland has already scored one of her best-charting hits ever in the U.S. as a solo artist, with the slinky "Motivation" featuring Lil Wayne. She may yet repeat the process with the lively, Rihanna-esque "Lay It On Me" featuring newcomer Big Sean. So maybe she's finally on the right track.
Still, the return to R&B seems bizarre after Rowland's success with David Guetta over the past two years — "When Love Takes Over," for example, wasn't just overplayed in gay clubland, it was in regular rotation even on pop radio. It's also strange given that we're at a point in time when dance music is finally charting big in the U.S. and not just in the U.K. Oddly though, Rowland decided to forgo the clear dance opportunity before her.
Which is not to suggest all of Here I Am is a miss. Rowland consistently produces music that is difficult to dislike. All of it — every track — is likeable enough. You just wish for more. Rowland clearly doesn't want to limit herself to dance music. She also doesn't seem to want to offer too much that reminds a listener of her early record-breaking success. So Here I Am opens with an edgy hip-pop number, "I'm Dat Chick," which draws your interest just like a Destiny's Child tune of old — or a Beyoncé tune of now — would.
KELLY ROWLAND
Here I Am
Motown
$11.99



But there's nothing else like "I'm Dat Chick" on Here I Am.
Instead, the next track is "Work It Man," a mildly swaggering R&B tune, one of three in which Rowland shares songwriting credit. And it all merely simpers on from there, until the big dance finale.
In many spots on Here I Am, Rowland's vocals are distorted or buried among over-processed melodies and beats, in a way that might even make Britney Spears notice. And just as often she leaves the heavy lifting, such as it is, to a crew of rappers. The effect does Rowland few favors. It makes her seem relatively bland. Her music is sharp enough to make you notice, but not enough to make you care very much.
And so Rowland's dilemma — of trying to move on from Destiny's Child, but not by becoming a full-fledged dance diva — becomes a listener's plight.
You can't help but feel teased. Again.