The trial of former Army Lt. Dan Choi for failure to obey a lawful order by a police officer was halted abruptly mid-afternoon today when the government prosecutor told the court she intended to file a writ of mandamus (or writ of prohibition) against Mag. Judge John Facciola for allowing Choi's defense team to investigate and pursue a defense of vindictive prosecution by the U.S. government against Choi for actions related to his First Amendment rights.
As Metro Weekly reported earlier today, Facciola said he had found there was prima facie evidence for "vindictive prosecution," meaning enough evidence was presented to allow Choi's lawyers to pursue such a claim. This would allow Choi's lawyers to ask the government to provide more documents and evidence investigating whether higher-level officials advised their subordinates to try Choi in federal court rather than D.C. court and, if so, why.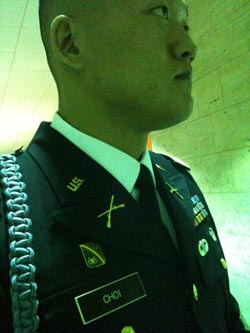 Choi was arrested on Nov. 15, 2010, along with 12 other activists when they chained themselves to the White House fence to protest the military's "Don't Ask, Don't Tell" policy, under which more than 14,000 other servicemembers were dismissed for being gay, lesbian or bisexual.
Earlier this morning, in his second time on the stand, U.S. Park Police Lt. Robert LaChance testified he had received an e-mail from the Secret Service about the November 2010 protest that led to Choi's arrest. U.S. Park Police Capt. Phil Beck, another witness called by the defense, said that normally Secret Service does not get involved with protests in front of the White House.
Under oath, Beck testified that immediately prior to Choi's March 2010 arrest, he had instructed Choi and former Capt. James Pietrangelo to leave the White House sidewalk. Under cross-examination by Assistant U.S. Attorney Angela George, Beck said he believes the ledge on which the White House fence rests — and where the two men were standing — can be considered part of the sidewalk. He also said that since the men were not moving when they chained themselves to the fence, they were violating the regulation that allows protesters to demonstrate in front of the White House as long as they keep moving.
However, Beck also said he had spoken with someone from the D.C. Attorney General's Office who had told him the Attorney General did not consider the fence ledge to be part of the White House sidewalk. In July 2010, the D.C. Attorney General's Office dismissed charges against Choi and Pietrangelo for that reason.
When Beck was on the stand, he said he refrains from using "slanderous" terms such as "gay" or "homosexual," a statement that Choi's lawyers jumped on as soon as the court dismissed for a short mid-morning break.
"I believe that because Lt. Dan Choi is a homosexual war veteran dressed in full military regalia, he was unfortunately selected or singled out to be arrested and prosecuted," lead defense attorney Robert Feldman told reporters at the break. "To this day, the prosecution had to be literally forced to notice Lt. Choi and Capt. Pietrangelo's rank. Today, Capt. Phil Beck refused to acknowledge their rank. This fact, with his revelation that he believes 'gay' and 'homosexual' to be slanderous terms, shows, in my view, that this public servant is a homophobe, and, in my view, the record bears this out."
After Facciola said that he found the threshold of evidence met to allow Choi's lawyers to search for and provide evidence and witness testimony to mount a defense of vindictive prosecution, George asked for a short recess so she could confer with her superiors.
After returning from a long lunch break, George and her assistant were joined by multiple DOJ employees, who sat in the viewing area, whispering among themselves. George then engaged in a back-and-forth with Judge Facciola and Choi's defense lawyers over whether the defense of selective prosecution, or "vindictive prosecution" should have been raised before the trial. The government previously filed a motion on Aug. 28 to limit the scope of subject matter in Choi's trial, meaning he would not be able to talk about "Don't Ask, Don't Tell," and to prevent Choi's lawyers from adopting the defenses of selective prosecution or impossibility.
Facciola said that, while that would be true in a jury trial, he was wearing "two different hats," one looking at the evidence as if a juror, and the other looking to see that the defendant's constitutional rights were not violated. When asked by George what his intentions were, he said he was insulted by the question and refused to answer it.
George then told the court that the government would be filing a writ seeking to stop the judge from allowing Choi's lawyers to pursue a "vindictive prosecution" defense. When Facciola asked if the government would be willing to dismiss the charges, George said no.
With that stalemate, Facciola halted the trial for 10 days to allow the government to file the writ. If one is filed, the U.S. Attorney's Office said it will go before U.S. District Court Chief Judge Royce Lamberth, who oversees the federal magistrate judges.
Choi's lawyers objected to the delay, refusing to waive their right to a speedy trial and pointing out, that, if Choi is not released by Sept. 20, he will be unable to re-enlist in the military.
"There's nothing about the judge's ruling that is inhibitive or prejudicial that prevents the government from continuing with its case," said Choi lawyer Norman Kent. "They are not only suppressing his right to free speech, now they're trying to inhibit his right to a fair trial."
When asked to comment on the case or the path forward for the government, George declined, pointing Metro Weekly to spokesman Bill Miller. Miller declined to comment on a currently open case.
Once the writ is filed in District Court, Chief Judge Lamberth may decide to grant or deny it. If it is granted, Facciola can resume the case under instructions from Lamberth not to admit vindictive prosecution as a possible defense. If the writ is denied, the case can go back to Facciola.
As the court dismissed for the day, the assembled DOJ employees in the audience quickly left the courtroom and headed down the hallway. Outside the court, Feldman and Kent both said the government's refusal to go forward with the case and their attempt to preclude the Choi team from utilizing the vindictive prosecution defense shows they are worried.
"The government is throwing a fourth quarter 'Hail Mary' pass that God is going to knock down," Kent said. "It's the most remarkable act of desperation that I've ever seen in 35 years of practice."