"I've had an affinity with gay people since I was like, 6 years old," Patti LuPone says. "The person I've known the longest, I knew at when we were 6 years old that he was gay. Go figure, since I was growing up in the '50s. I knew he was gay, and he's been my friend all of these years. How many years is that now? That's over 50 years that we've been friends."
And she's had an affinity for theater almost as long as for gays. "Whether you were gay — or straight and just left of center — the theater was the place to just come alive. It was for me," says LuPone, the Broadway star who originated the role of Eva Peron with a Tony Award-winning performance and won a second Tony Award in 2008 for playing Mama Rose in the revival of Gypsy.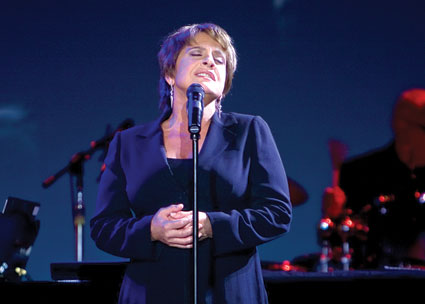 Patti LuPone
(Photo by Rahav)
LuPone will be performing her show, Coulda, Woulda, Shoulda, at the Clarice Smith Performing Arts Center at the University of Maryland next Saturday, Sept. 10, kicking off the multipurpose arts venue's 10th anniversary season.
"It's I coulda played that part, I woulda played that part, I shoulda played that part," LuPone explains of the show. "Twenty-four/seven show tunes. Songs that I think people would not expect me to sing — besides songs that I did sing."
Talking about the difficulties that the arts face in tough economic times LuPone is hopeful. "I guess you can't kill the arts. I hope you can't kill the arts. I hope that people understand how important it is for one's soul, one's sanity, one's enlightenment and enrichment."
Despite the economic times, LuPone's optimism shines through. "The fact that I'm coming down to D.C., and that I'm celebrating this theater on its 10th anniversary says a lot about the people who support the arts."
She points to the lure of the theater for part of the reason for her optimism.
"Everybody wants to be in show business, everybody wants to be onstage," she says, an echo of Gypsy's Mama Rose in her voice. "But there's a precious few that make it."
Then, more optimism.
PATTI LUPONE
Shouda, Coulda, Woulda
Sept. 10
Clarice Smith Center
Dekelboum Concert Hall
$40-$75
301-501-2787
claricesmithcenter.umd.edu
"Look at Glee," she says. "I think Glee's done a great thing for kids. That was where I was when I was, from elementary school through high school. I was in the music department. I was an oddball. I wasn't hanging out with the jocks.
"And I was a cheerleader. I was thrown off the cheerleading squad because I was smoking at an away game in the girls' room," she laughs.
LuPone is a long way from the cheerleading squad, preparing to perform on Broadway for a limited run of the show that reunites her with her Evita co-star, Mandy Patinkin. The show, An Evening With Patti LuPone and Mandy Patinkin, will start its run Nov. 16 at the Barrymore Theatre.
As for future Broadway plans, she would only say, "You'll be seeing me in something – knock on wood – you know, in a year's time."
She is direct about her aim in performing. "Here are my expectations: That I go onstage and that I don't stink it up. That I give it away, and the audience gets it, and everyone goes home happy."