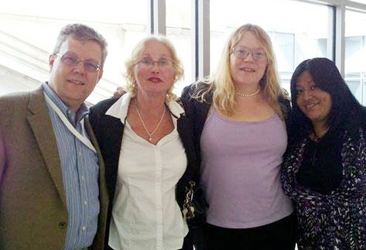 Members of the local LGBT community, including the Gay and Lesbian Activists Alliance (GLAA), Transgender Health Empowerent and the DC Trans Coalition, met with Mayor Vince Gray on Thursday, Aug. 4, to talk about transgender employment issues in the District.
In a blog post on the GLAA's web site, Rick Rosendall, Vice President for Political Affairs at GLAA, summarizes Gray's three commitment to improve conditions, as a conclusion of the meeting:
1. Expand cultural diversity training across District Government with a focus on LGBT and specifically transgender cultural competency. The D.C. Department of Human Resources (DHR), the Office of Human Rights (OHR), and the Office of GLBT Affairs will develop a training module for all District government employees by October 1.
2. The Department of Employment Services (DOES) will pilot a transitional employment program targeting transgender community members, to include six weeks of training coupled with subsidized paid employment.
3. DHR will explore the legal issues around use of a ranking factor (requiring agency staff expertise on transgender issues) and implementing a policy similar to the federal Schedule A (which gives agencies authority to make non-competitive appointments of persons with disabilities).
In email to Metro Weekly, Rosendall said he was "encouraged" by the meeting.
"I was encouraged just by the fact that Mayor Gray gave us a meeting that we never got with his predecessor," he stated.
"But this wasn't just window-dressing; the Mayor made it clear to the D.C. agency officials whom he brought to the meeting that he wanted action items, otherwise we would just be having a conversation and nothing would come of it. The activists he met with will be following up with Jeff Richardson of the GLBT Affairs Office. We do not know how the legal questions will come out. But we have allies in the Gray administration and they are making an effort. Anti-trans discrimination is entrenched in our society and it will take a long time to overcome. These efforts are just a start."
[Photo: Rick Rosendall, Jeri Hughes, Denise Leclair, and Ruby Corado. (Photo courtesy of Leclair.)]