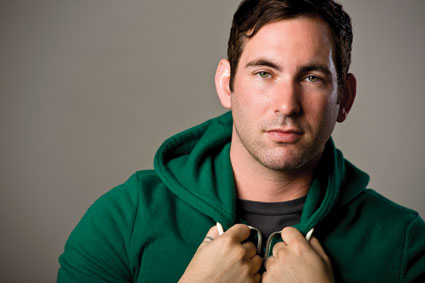 Eric Himan covers more ground on his new album, Supposed Unknown, than any of his previous sets. And yet, the strapping gay singer-songwriter still can't keep up with his lover. "Nothing sticks to you," he sings on the hard-charging, amped-up rocker "Dust," talking about a lover who's moving full-steam ahead. "You make me feel so still, like I'm collecting dust."
In fact, comparatively speaking, Himan does collect dust at other turns on the album. Despite his hardened image of tattoos, muscles and steely looks, Himan has always been more of a folk-rocker than a hard-rocker. And here as ever the tenor spends a bit more time contemplating the seriousness of love and life at a slow tempo, with straightforward support from an acoustic guitar, or a piano, and little else.
"And I bet you think I'm crazy, to lead you into doubt," Himan sings on the heartbreaking ballad "Left Out." He hesitates repeatedly as he expresses his pain. "And I'm struggling to show you that, in this love, I feel, left out." And all you hear other than his earnest voice and lyrics is a haunting piano, the occasional, faint beat of a drum machine — and the echo it all makes in an empty room. This is an exquisite kind of ache.
Himan recorded Supposed Unknown in transgender singer-songwriter Namoli Brennet's home studio in Tucson, Ariz., and he credits that for giving the set a warmer, fuller sound than before. Certainly it benefits from Brennet's support on backing vocals and instrumentation.
ERIC HIMAN
Supposed Unknown
$11.99



There are many acoustic delights to be found on the 12-track album. Maybe you'll favor "Out In The Outer Banks," seemingly a take on Don McLean's "American Pie." Or the James Taylor-esque "You Come Around." Few could deny the sweet folk of "Is This My Life?" or the bluesy and amusingly themed "Theme of a Former Pushover."
And yet, once again I find Himan most compelling when he picks up his electric guitar and gives it to us hard. "Dust" hits the hardest, but "Lonely No More" packs more punch — and not just because Himan shouts the title at song's end in a pique of self-determination. It's all about how he gets to that shout. The song bristles with an undercurrent of rock heat to start, with electric guitars growling in the background. But then Himan cuts to a restrained bridge, singing, "I don't want to be lonely, no more" over and over, working himself into a state that cannot be contained. Brennet harmonizes with him to finish out the song with an ecstatic chorus, bringing to life the titular wish. No one could feel lonely after hearing this.
IF ERIC HIMAN OFTEN comes across a bit like a gay James Taylor — or a male Amy Ray — Jake Walden may strike you as a gay Marc Cohn ("Walking In Memphis"), or occasionally even Loudon Wainwright III. His gravelly voice and earnest lyrics and music have an impact beyond what you might expect from any description of it, or a first listen.
Walden is a Los Angeles-based singer-songwriter whose music has gotten some play as background tunes for television shows, including Cougar Town and Scrubs. The title of his new album, Same Something Different, funded in part with support from nearly 200 of his Facebook fans, is meant to convey a connection with his debut, 2008's Alive and Screaming. But it also perfectly describes the sound of his music and your reception to it. It's the same kind of sweet, soft, melodic pop, with a dash of country and even more folk, that intermittently hits big in the mainstream.
For example, the verses slowly, dramatically ascend to the chorus in "When The World Lay Still" in the same manner, if without quite the same intensity, as Roy Orbison's "I Drove All Night."
JAKE WALDEN
Same Something Different
$10.88



Another example is "We Are Not Broken," which in fact appeared on Walden's debut in a slightly different version titled "We Are." Warden has said the song gets a big emotional response in concert. It's not hard to hear why: This is a sing-a-long anthem of the first order, and though it's not explicitly gay, it's certainly gay affirming. In an alternate universe, it would have already hit the pop charts.
"Simple Life" may be the most dramatic tune here, with Walden pausing for a beat before letting loose a cry of "yeah" to launch into yet another affecting, anthemic chorus.
Walden's raspy voice carries an edge that takes a little warming up to; Walden's not the type of singer who could sing anything, and he doesn't draw you in with little or no effort. But he's so sweet and sincere, and the mostly piano-driven music so eager to please, you can't help but appreciate and respect his dedication. He's definitely an artist to watch.