Paul Klein didn't have a clue about Clue.
"The one I had no idea we were supposed to love was Clue," Klein says, about gay interest in the 1985 film based on the board game. Clue has screened twice as part of the two-year-old Midnight Movies series at Landmark's E Street Cinema, where Klein is house manager.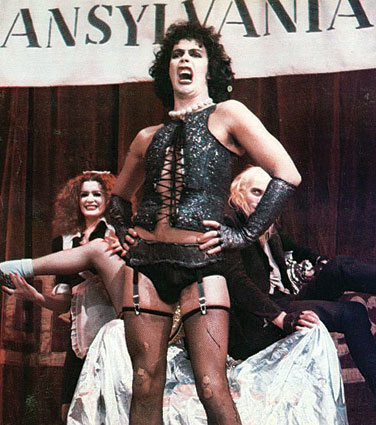 Rocky Horror Picture Show
"The first time we [showed] Clue it was like everybody just bused in from Dupont and bought some Pinot Grigio," Klein jokes. "I had no idea that was going to draw such a queer crowd."
Klein wasn't as clueless about The Rocky Horror Picture Show's gay appeal. He added monthly screenings of the 1975 cult classic to the series, which happens every Friday and Saturday night at midnight. "Rocky Horror is great because everybody loves it," he says. "You get all these people who saw it in the '70s originally, and then you get a gay crowd, and [then] kind of awkward high school students who are kind of figuring things out and dressing up in fishnets." For the packed E Street screenings, the "shadowcast" Sonic Transducers "act out [Rocky Horror] in front of the screen with props and costumes," says Klein, and "they say wonderful and awful things."
Klein says there are similar midnight showings at a few other theaters in the Landmark chain around the country. They take recommendations on what to show from patrons, who can take advantage of the theater's full bar.
In addition to Clue and Rocky Horror, E Street Cinema has screened classics at midnight such as The Wizard of Oz and Sunset Boulevard. This weekend brings screenings of the 1997 Bruce Willis-flick The Fifth Element and Labyrinth, Jim Henson's 1986 fantasy film starring David Bowie.
Next month the theater offers the D.C. premiere of The Human Centipede II: Full Sequence. Klein describes the new film as "a schlocky horror film about a mad scientist who pieces people together ass to mouth [creating] one long human centipede.
"There are kind of no rules for the midnights," Klein says.
Midnight Movies screen every Friday and Saturday at 'Landmark's E Street Cinema, 555 11th St. NW. Call 202-452-7672 or visit landmarktheatres.com.