Andy Bell is feeling his age.
"I love Beyoncé and Rihanna and stuff, but it's so hyper, everything," says the 47-year-old. "You kind of feel like you can't possibly be as hyper as those young people, you know? It's impossible."
At the very least, Bell was once as hyper as that. As the flamboyant lead singer of Erasure, Bell is responsible for some of pop music's most energetic, if not always hyper, hits, including "A Little Respect," "Chains of Love," "Drama!," "I Love To Hate You" and "Who Needs Love Like That."
In any case, Bell is not the retiring type. With his Erasure cohort Vince Clarke, Bell is preparing to release Tomorrow's World next month. It's the British duo's 14th studio album. "It seems like a lot, but when you look at some of the great artists, they've done like 60 albums or so," he says. "So still quite a few to go, I suppose."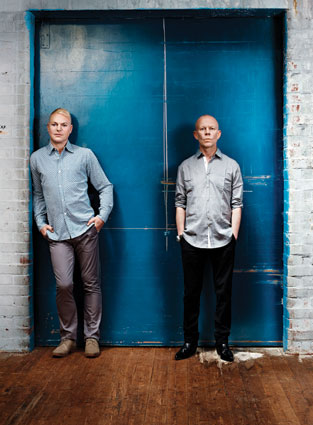 Erasure
Formed 26 years ago, Erasure helped pioneer the sound of electronica and dance music that is once again ruling today's pop charts. Bell is proud of that legacy, and also proud that he's been openly gay from the get-go, something essentially unheard of in pop music. "I just feel like my conscience is clear," he laughs.
Bell concedes it hasn't always been easy being out. "In some ways it has made it harder because the industry is very macho — pretendedly macho," he says.
After a run of hit songs and albums in its first decade, and especially its first few years, Erasure settled into a level of moderate but consistent success. They've had to find their own way to market themselves, from working the gay press to taking advantage of the growth of digital radio. "Thankfully there are thousands and thousands of radio stations now," Bells says. "It might not be Top 40, but you get in there somewhere."
Another critical factor to the band's longevity is a devoted fan base. With a sense of both optimism and longing — in terms of music and lyrics — Erasure's patented style has been the soundtrack to coming out, or even just growing up, to many. There's a built-in affinity toward the band that many artists can only dream of.
Known for elaborate stage shows, the band will stop for two nights at the 9:30 Club next week. Bell promises it will be "quite powerful."
"I feel, for the first time in a long, long time, settled," says Bell about his life. "I was buzzing around all over the place [before]…and now I feel much more at ease with things and with myself. I've always been a very slow maturer."
ERASURE
Sept. 6 & 7
9:30 Club
815 V St. NW
$45
202-265-0930
930.com
Bell is working on a project with Clarke to create an album of nursery rhymes, partly inspired by Clarke and his wife becoming parents a few years ago. Bell, however, has no plans to become a father himself. "I do love children, but — it's nice [just] being an uncle." He laughs that his sisters and brothers "have got loads of kids, so there's enough."
Bell hopes Erasure will compile another album similar in spirit to the brilliant 2006 set Union Street, featuring country versions of songs from their own repertoire. He's also eager to do an orchestral album. And he'd like to assemble a collection of songs he's recorded as a solo artist and in collaboration.
Eventually there will be more gay pop stars – of that Bell is confident. It's just hard to say when with any certainty. "It just seems to be how the world works. It's the same as the civil rights movement," he says. Just a few years ago, the idea of having a black president seemed a distant dream. "Can you imagine having a gay president?" Openly gay, Bell quickly qualifies, laughing, "I'm sure you've [already] had a few."