Responding on behalf of President Barack Obama, Homeland Security Secretary Janet Napolitano today sent a letter to Senate Majority Leader Harry Reid detailing that the department is in the process of implementing changes to enable the government to focus its resources on high-priority immigration cases involving crime and other public safety concerns.
A senior administration official says the changes are aimed at moving prosecutorial discretion exercised by immigration enforcement officials from an "ad hoc" system to a system focused on the "highest priorities" that will "eliminate the lowest priority cases" – including, another senior administration official says, same-sex couples where one partner is facing deportation.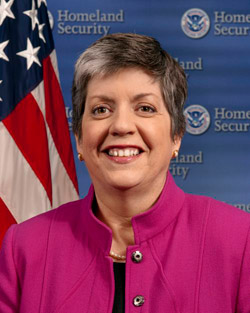 Janet Napolitano
Napolitano's letter is aimed at responding to questions "regarding the Administration's immigration enforcement policies and the Development, Relief, and Education for Alien Minors (DREAM) Act," but a senior administration official said on a conference call with reporters that the decision is intended to include exercise of this discretion for same-sex couples.
Today's letter follows a series of memoranda from Immigration and Customs Enforcement (ICE) Director John Morton addressing the exercise of prosecutorial discretion by ICE personnel – who are responsible for bringing removal actions against those people who are subject to removal.
According to a June memorandum from Morton directed to all ICE officers, agents and attorneys, ICE "must regularly exercise 'prosecutorial discretion'" when it comes to enforcement of its removal powers, and the limited resources of the agency should lead ICE to focus on "the agency's enforcement priorities."
The senior administration official said that Napolitano's letter announces that DHS is implementing the Morton memo. In addition to impacting new potential removal cases that could be brought, the official said that pending removal cases will be looked at, "setting those [low-priority] cases aside as well." The cases, the official noted, are not dismissed, but merely set aside.
In response to a question from Metro Weekly about the impact of today's decision on same-sex couples, a second senior administration official said, "The prosecutorial discretion memo provides for the use of discretion for people with strong community ties, with community contributions and with family relationships. We consider LGBT families to be families in this context."
Asked specifically if that included same-sex couples, the official said, "Yes."
The second official notes that there are 300,000 removal cases pending. Those whose removal cases are set aside will be eligible to apply for work permits, the second official said, but the decision about whether to grant them will be made on a case-by-case basis.
Attorney Lavi Soloway, whose work at Stop the Deportations has resulted in several couples where one partner was facing deportation having the deportation put on hold, called Napolitano's move "historic."
He told Metro Weekly, "By undertaking a review of all pending deportation cases at the highest level and clarifying that existing prosecutorial discretion guidelines include LGBT families, Secretary Napolitano will now have the opportunity to stop every deportation involving a lesbian or gay binational couple."
Referencing the millions of immigrants who are in the country but not in removal proceedings subject to ICE, the first official noted, "This does not apply to them."
It's that point that left Immigration Equality with continued concerns today.
The group's communications director, Steve Ralls, told Metro Weekly, "It's great news for couples who will be positively impacted by that discretion, but that is only for couples who are already facing removal or deportation."
He said the group is "still waiting on the administration to provide some relief for all couples even before they are out of status and before they are already facing the prospect of imminent removal."
Of today's news, Human Rights Campaign Vice President Fred Sainz told Metro Weekly, "This is a welcome clarification. We expect that DHS would continue to see same-sex binational couples as a low priority for deportation and not waste federal resources in tearing apart committed loving families."
The process detailed in the letter notes three steps that a newly established working group will address in implementing the Morton memo.
First, Napolitano writes, "Together with the Department of Justice (DOJ), we have initiated an interagency working group to execute a case-by-case review of all individuals currently in removal proceedings to ensure that they constitute our highest priorities." Then, as to new cases, she writes, "The working group will also initiate a case-by-case review to ensure that new cases placed in removal proceedings similarly meet such priorities." Finally, she notes that the group will address how cases where a removal order already has been issued should be addressed, writing that, "[T]he working group will issue guidance on how to provide for appropriate discretionary consideration to be given to compelling cases involving a final order of removal."