Among people who don't play video games, there are plenty of misconceptions about gamers. And among LGBT people who don't play games, David Edison says one misconception stands out: "That gay people don't play games."
Edison, an editor for GayGamer.net, jokes that LGBT gamers have to come out twice – first there's the traditional coming out, then there's the coming out as a gamer.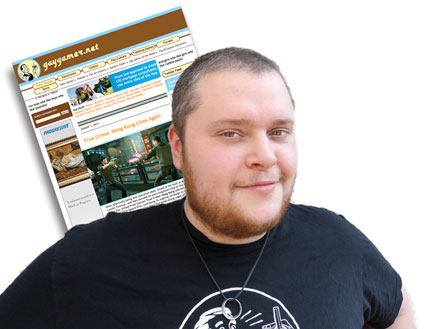 David Edison
(Photo by Kevin August)
"Often the second one was just as weird or tense," laughs the 33-year-old, who got his first Nintendo console in 1987, the start of his 23 years of solid gaming. "I remember telling a date that I played video games and the look on his face was just like, 'What?"'
But those misconceptions are changing, in part because of the network of gay players that GayGamer has helped bring together. It's not just about discussing which game characters are gay – though that's always a near and dear topic. For Edison and the website's writers, it's about building a community.
METRO WEEKLY: Why does the world need GayGamer.net?
DAVID EDISON: When we began in 2006, there were no places where it was safe to talk about something as simple as, for a gay gamer, "This male character's hot." If you tried to have that conversation, you'd have a flurry of angry, homophobic replies. That is really the kernel of what GayGamer was created for, to be a safe space and community for a population that already existed.
MW: What have you learned about both the video game industry and the game-playing community?
EDISON: The industry was confused at first and understandably so – I don't necessarily think that gayness had ever been a part of their world before. It certainly wasn't a part of their job description to have a gay journalist show up and start asking gay questions. [Laughs.] But they're trying to sell their game, so the industry was always really welcoming because that's their job. And they're lovely, intelligent people.
The gaming community is a more fractured critter. We instantly found a great reception among those who were hungry for what we could provide. But in the first couple of years, and even now to a certain extent, whenever gay topics were brought up on mainstream gaming sites that are friendly with us, the comments were always awful. There was a lot of nasty, nasty stuff written about us, just not necessarily on our site proper.
MW: It's probably kind of a dead horse, but online games on services like XBox Live can have a lot of hateful and homophobic language thrown around. Is that something that's solvable or is it here to stay?
EDISON: It's not a dead horse, it's something that I feel super passionate about. My basic principle for making the world better is visibility. If gay people are seen, it makes it harder to hate them. And in the six years I've been at GayGamer, it has grown increasingly uncool to be homophobic online. The tenor of the ecosystem has really changed, I think following the tenor of society. But Microsoft, for instance, is tremendously aware that they have an image problem when it comes to people being awful online, and has worked very hard to change that.
Also, because of sites like GayGamer you don't have to go online and throw yourself on the mercy of a bunch of strangers. Our forums keep track of gay friendly guilds and gamers so you can go online and play with them. So, half of the answer is being visible and making it harder for somebody to say something against you. The other part of it is taking your toys and playing with your real friends.
MW: My perception is that a lot of the progress in the inclusion of gay characters and themes in games has focused on gay men, and not very much on lesbian or transgender themes. Is that the case?
EDISON: That's a frustrating question to answer, and part of the reason it's frustrating to answer is because I only know my world as a gay man. I think that because most of the people in the game industry are men, it might be easier to address gay men as a separate issue than it is to wholesale challenge your view of the world and where sex and gender fit into it.
MW: What are some games that you think stand out for gay inclusiveness?
EDISON: I think Rockstar Games always does a fantastic job of including reality in their games, in subtle, fun ways. The Ballad of Gay Tony, a game named after a gay character that you don't play but that you work for, is a brilliant way of getting gay visibility without disrupting the gaming experience for people who might otherwise be resistant. I don't know that I would play it and feel warm and cuddly about the gay people in the game, but I think it's really something to be proud of.
Dragon Age cannot be understated. It's important because it is side-by-side with Bioware's sci-fi role-playing game, Mass Effect, which has a total absence of the kind of cultural awareness that makes the gender play in Dragon Age so wonderful. Mass Effect comes along in this sort of lumbering, oafish, jockish manner, and the best that they can do towards diversity is have an African-American character giving awkward fist-bumps even though the game is set in the future and in space. It's the same studio putting out two different games that are almost bookends of each other – one sci-fi, one fantasy. One is sensitive and dear and beautifully crafted; the other is beautifully crafted and brutal and not sensitive.
MW: With GayGamer, what are you most proud of accomplishing for gay gamers themselves?
EDISON: Establishing a community presence online where issues pertinent to gay gamers could not only be voiced, but explored, is really important to me. The other thing that I'm very proud of is that our traffic was pretty much instant and, for as long back as I've got metrics, it's been the same — there was an audience waiting there for us, they glommed onto us and they haven't left us. Our traffic has remained remarkably constant over the years. That's something that anybody who runs a website can feel good about.