With White House Deputy Director of Public Engagement Brian Bond, who has served as the White House's liaison to the LGBT community, leaving for the Democratic National Committee to serve as director of constituency outreach later this month, the question was: Who would replace Bond?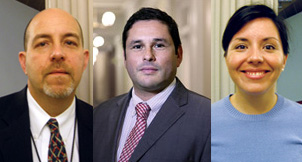 The answer, it turns out, is three different answers.
Politico's Mike Allen reported this morning that Stephanie Valencia will take over the deputy director role. Valencia, who has been associate director for Latino and immigration outreach in the White House Office of Public Engagement since January 2009.
As Bond did, Valencia "will oversee operations and programs to engage communities and leaders across the country." Politico also notes, "Prior to working at the White House, Stephanie worked for then-Rep. Rahm Emanuel and Rep. John Larson in the House Democratic Caucus."
Additionally, White House spokesman Shin Inouye told Metro Weekly that Raul Alvillar will be, in an "interim" role, serving as the "point of contact for the LGBT community for OPE." Alvillar is associate director for public engagement at the Office of the Vice President and will continue to work out of the vice president's office.
Alvillar previously worked as congressional relations officer in the Department of Housing and Urban Development and had worked on the Obama campaign.
Finally, Inouye said that a permanent LGBT liaison announcement would be coming this fall. "Following Brian's departure from the White House to his new position at the DNC, we will have a full time liaison to the LGBT community in the Office of Public Engagement in October," Inouye wrote.
Richard Socarides, who served as President Bill Clinton's liaison to the gay and lesbian community in the '90s, has been a critic of President Barack Obama at times in the past two years — but also has praised developments that he has seen as positive from the president this year.
Metro Weekly asked Socarides for his thoughts on Bond's departure and the staff shuffling going on currently.
He replied, writing, "One of the biggest mistakes we made with Obama as a community at the outset was not insisting on a full-time, senior ranking White House policy official to be responsible for our issues. We see that the explanation given at the time — that they were not organizing along issue silos — was just not true.
"It is not too late now, in fact now is the perfect opportunity, with the opening created by Brian Bond's departure to the Democratic Party. I am hoping that those with close ties to the White House are insisting on it. This is what an early endorsement should get you. A leader from your own ranks high up on the inside.
"Now is the moment to do this. It should be obvious to everyone that our issues are at the forefront of a national dialogue, from New York to California and many places in between. We should not have to depend on the good graces of overwhelmed White House aides — straight allies for sure — but overwhelmed with the financial crisis and two wars and job creation — to carry our priorities.
"We need and deserve one of our own with rank, stature and gravitas to represent us at the table. (And for those who thought the debate over whether we deserved a place at the table was over, this is the reality of Washington today)."
[Photos: Bond, Alvillar, Valencia (Photos courtesy of the White House.)]