Over the weekend, Texas Gov. Rick Perry entered the Republican race for president; former Minnesota Gov. Tim Pawlenty dropped out of the 2012 race; Minnesota Rep. Michele Bachmann barely defeated Texas Rep. Ron Paul to win the Iowa straw poll in Ames, Iowa; and former Massachusetts Gov. Mitt Romney sat back, staying out of Iowa for the weekend.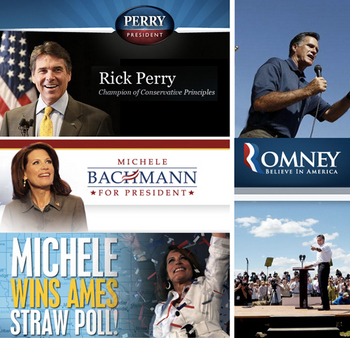 From the view of the Wall Street Journal's conservative editorial board, none of the front-runners are optimal. In today's editorial, it asks if Bachmann "has the experience and judgment to sit in the Oval Office," questions whether Perry's "muscular religiosity" will "play well at a time when the economy has eclipsed culture as the main voter concern" and calls Romney "a weak front-runner who … gives little evidence that he has convictions beyond faith in his own technocratic expertise."
Strong in its opposition to Obama, the board concludes by stating, "Republicans and independents are desperate to find a candidate who can appeal across the party's disparate factions and offer a vision of how to constrain a runaway government and revive America's once-great private economy. If the current field isn't up to that, perhaps someone still off the field will step in and run. Now would be the time."
When it comes to LGBT issues, the leading GOP candidates face similar skepticism. Think Progress put together the "Top 5 Examples of Perry's Anti-Gay Agenda" shortly after his entry into the race on Aug. 13. Towleroad covered Bachmann's response to LGBT-related questioning in her appearance on Meet the Press on Aug. 14. And, Romney — considered more moderate on LGBT issues than Bachmann or Perry — nonetheless spent time at the GOP debate this past week supporting the Federal Marriage Amendment (FMA).
The Human Rights Campaign — which already endorsed President Obama's re-election — hit the ground running this morning, sending out an email to supporters warning of "Anti-LGBT McCarthyism." The reference was to a plank in a recent National Organization for Marriage pledge signed by Bachmann and Romney that commits them to "appoint[ing] a presidential commission to investigate harassment of traditional marriage supporters" — in addition to supporting the FMA and defending DOMA.
The email, signed by HRC president Joe Solmonese, states, "This witch hunt commission would usher in a despicable era of anti-equality McCarthyism – and it's a sign of just how radical the right has become."
At Log Cabin Republicans, though, deputy executive director Christian Berle laid out the reality of the focus in Ames, telling Metro Weekly, "The shakeup after this weekend is indicative of the long and tumultuous contest for the Republican nomination. The Ames Straw Poll, like the Iowa caucuses, reflect a cross-section of socially conservative voters and with their results helped advance certain candidates."
He also noted, though, "The results also showed a significant achievement for the libertarian-minded Ron Paul, whose candidacy has underscored the need to focus on fiscal issues first and foremost, himself a vote against the Federal Marriage Amendment and in favor of repeal of 'Don't Ask, Don't Tell.'"
For GOProud's executive director, Jimmy LaSalvia, the focus remains the economy and growth of government. Asked to size up the GOP field following this past weekend's developments, LaSalvia told Metro Weekly, "I think the top tier of Republican candidates will continue to focus on the issues that most conservatives, and most Americans, care about — namely jobs, the economy and the size of government. This weekend's Iowa Straw Poll results once again confirm the influence of the Tea Party and its limited government message in this primary process."
In terms of the support of GOProud and gay conservatives more broadly might give to any of the candidates, LaSalvia wrote, "We are confident that at the end of this process, we will have a Republican nominee that gay conservatives can support and — most importantly — one who can defeat Barack Obama."
Taking a swipe at HRC, Berle pointed out former Utah Gov. Jon Huntsman's continued support for civil unions and noted, "While this weekend's results could be seen to shift the balance in favor of certain candidates and ideologies, it is important to look at the 15 months ahead in the nominating process, and is unwise for any organization to pre-judge the entire Republican field or to jump at endorsing the President so early."
[Image: Leading GOP candidates' web sites (Image illustration by Yusef Najafi.)]