Will Lady Gaga or Britney Spears dethrone Madonna in the 9:30 Club's diva dance battle this Saturday, Aug. 6? They just might.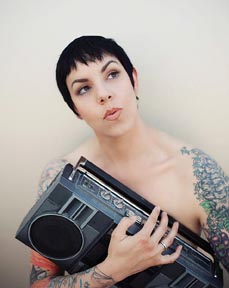 dj Lil'e
(Photo by Cassidy DuHon)
"I don't know about Madonna because she hasn't put out anything new for a while," says the event's host Erin Myers, who goes by DJ lil'e. "But she has a huge leg up on everybody because her career is so long."
Despite its title — "Lady Gaga vs. Madonna vs. Britney Dance Party" — the event isn't technically a contest. "It just sounds more interesting to put it that way than to say, 'DJ lil'e Playing the Music of…."' says Myers. In fact, the triumvirate will be played in roughly equal measure.
And anyway, only the third spot ever rotates; Gaga and Madonna both have a lock on the marquee. Kylie Minogue, Rihanna, even international electro-punker M.I.A. have all warmed the third spot slot, which Myers says rotates "to keep it from getting stale."
Myers, who works by day in human resources for a liberal-leaning interactive media company, is best known as a DJ throwing '80s-themed and alt-pop parties, most notably the Black Cat's nine-year-old monthly party Right Round. She got her start as a DJ a decade ago after teasing her husband about his two turntables, and then co-opting them once she learned how to use them. She spins for private events and weddings in addition to club parties.
Her diva dance party was essentially a dream come true. "It sounds hokey, but I had a dream that I did the Gaga/Madonna/M.I.A. party at 9:30," Myers says. "When I woke up, I thought, 'Oh my god, that's such a great idea."' The 9:30 Club liked it so much, they asked her to throw the first one less than two weeks later.
Myers brings in dancers for the party, and works with Kylos to provide lighting and visuals. DJ lemz will guest with her this time out. The party, which sold out the 9:30 Club in July 2010 and again last March, attracts "a real mix."
And Myers will likely mix it up with the crowd too. "I dance a lot while I DJ," she says. "I come out from behind the decks and dance with the dancers. For me, it's like, who wouldn't love dancing around and lip-synching onstage to some great music in front of a bunch of people that are cheering and having a blast?"
Hey, it works for Britney. — Doug Rule
DJ lil'e spins Saturday, Aug. 6. Doors at 9 p.m. Nightclub 9:30, 815 V St. NW. Tickets are $15. Call 202-265-0930 or visit 930.com.