After a hard day's work, Seth Knight would "rather go home and go to bed than hookup again."
Ah, the life of a porn star. "It does change a lot of your way of thinking of sex," says the budding star, who's only been performing in adult films since earlier this year. The work has diminished his sex drive in private — at least when it comes to strangers.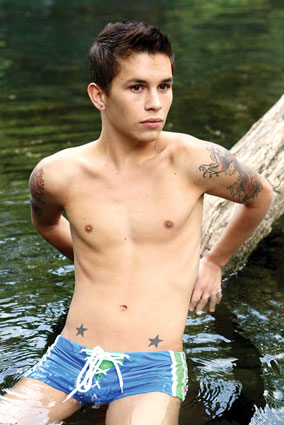 Seth Knight
But when it comes to the man he's engaged to marry in New York in November? "No, not at all," he says. "I please my man. What he wants is what he gets because I love him."
Knight even moved from Texas to North Carolina to be with his fiancé, Carter. Of half-Mexican descent, Knight grew up in Wichita Falls, Tx., where his family, including a sister, still resides. He came out when he was still in high school and at the time was dating a guy who lived in Dallas, two hours away. Knight's mom and stepdad now know about his porn career — "they don't prefer it, but what can they do?" — but he "can never tell my grandma. She would flip out. She disowned me for a while when I told her I was gay."
Before porn, Knight was aiming to get his cosmetology license, having completed the training. "I've always been the one doing my friends' hair and all of that," he says. After porn, he thinks he may try his hand as a real estate agent instead.
Knight figures he'll do adult films for a couple years. "Porn only goes so far," he says, laughing. "You sleep with everybody eventually." Especially when you're on a fast track like Knight. "My first month or two, I became Twink of the Year," he says, of the honor bestowed upon him by Raging Stallion Studios' Twinks.com. "That was pretty cool."
There are still things he wants to do on screen before he's finished, though. "I'd like to be in a dark dungeon room and get gang-banged by a bunch of muscle men," he says. And that's just for starters. He'd also like to recruit his fiancé, whom he describes as "an attractive muscle guy," to join him on camera. "I've asked him, 'If I start my webcam shows, would you jump in?' He's like, 'probably."'
Seth Knight appears live at Town Danceboutique, 2009 8th Street NW, on Friday, Aug. 26. Doors open at 10 p.m. Cover is $5 before 11 p.m. for patrons over 21, or $10 after and for patrons 18 to 20. Call 202-234-TOWN or visit towndc.com.
Visit TLA to see some of Seth Knight's videos.