The D.C. gay barkeep and waiters were not pleased with Tori Amos.
"'What is this rock-and-roll white trash look?"' Amos recalls them asking of her teenage self's sense of style. "I'd say, 'Well, this is what's happening.' And they'd say, 'That is not happening. Not on our watch."'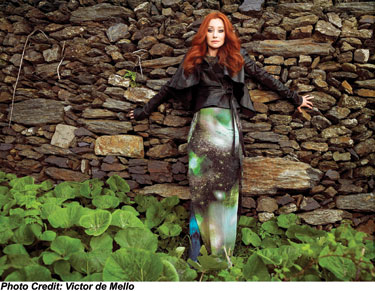 Tori Amos
The piano pop star Amos, who graduated from Rockville's Richard Montgomery High School in 1981, got her start performing at a couple long-gone, gay-popular piano bars in Georgetown — Mr. Henry's and Mr. Smith's — as well as at various D.C. hotel lounges. Her father, a Methodist minister, was her chaperone. Amos credits that early gay support and tough love as critical to her eventual success.
"They taught me how you do yourself no favors by trying to be someone that you're not," she says. "It was a real lesson in trying to learn what my style was, and that didn't come easy."
By the mid-1990s Amos had found her way — all the way to the pop and rock charts, with hit albums including Under The Pink and Boys for Pele and hit singles such as "Crucify," "Silent All These Years" and "Jackie's Strength." The fashionable pop eccentric with the pixie-esque voice has made her name by pushing boundaries and straying from the tried-and-true paths of Top 40. But the resulting music still always sounds like Tori Amos. She's got a definite style all her own.
That's true of even her latest album, Night of Hunters. Amos describes her 12th studio set as "a 21st Century song cycle based on classical themes," released by the storied classical label Deutsche Grammophon.
Yes, a classical album from Tori Amos. "I know, crazy huh?" she says. It's not that Amos, who's been composing and playing music "since before I can remember" — she started playing piano when she was two — doesn't have classical training. It's just that she was pop-minded even as a precocious child. Amos was accepted into Baltimore's prestigious Peabody Conservatory when she was five, but the institute's "strict classical education" and disdain at the time for contemporary music, including jazz, proved to be oppressive and she left early. "Someone [on staff] made a comment that the Beatles' music wouldn't be around in 30 years," she recalls.
When Deutsche Grammophon asked Amos if she'd be interested in the classical project, she was reticent. "The concept of something so demanding, it can really ruin a career doing something like that, if you get it wrong," she says. In the end, the resulting music fits just fine into Amos's repertoire. "I wanted to be able to play these songs alongside [my] catalog live," she says. "I didn't want it to be, 'Oh, there's that other strange project that we have to fit in in the live context."'
Night of Hunters is not Amos's only wildly ambitious project of late. "I've been writing a musical for what seems like 5,000 years now," she says, about the musical adaptation of George MacDonald's 19th Century fairy tale The Light Princess. In reality, she's been working on it with director Samuel Adamson for three years. Amos says "making a musical has been the hardest thing I've ever done."
TORI AMOS
Night of Hunters
Available Now
In Concert
Dec. 5
Constitution Hall
1776 D St. NW
$45
202-628-4780
"There's a musical graveyard with many musical rejects," she notes. "Of course, everybody always thinks that they're going to be the one that doesn't get buried in that coffin." But The Light Princess is a commission of the famed Royal National Theatre in England, where Amos lives part-time with her British husband and their 11-year-old daughter. (They also have a home in Florida.)
Given that theater's imprimatur and Amos's own history of successfully tackling ambitious projects, chances are, to paraphrase the old D.C. queens, this is happening.
For a chance to win a copy of the album or tickets to the concert, visit metroweekly.com/win.