It's not often that the Centaur Motorcycle Club bestows its Bikeus Award. "The last time it was given, seven or so years ago, was to Brett Parson," says club president Steve Ranger, noting that only six or seven have been awarded in the Centaurs' 41-year history.
So it's little wonder that the honor, awarded for "excellence, support, compassion and brotherhood [that has] made a significant impact on the Leather/Levi community and our lives," elicits an emotional response.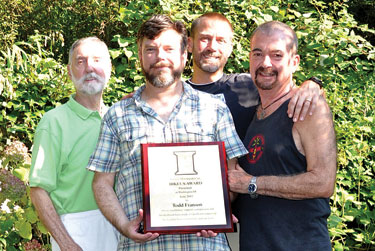 Todd Franson holding Bikeus award
"I cried like a baby," says the latest Bikeus recipient, Todd Franson, who was handed the award – to his complete surprise – earlier this month at the 80th birthday of JP Halford, a former Centaur MC president.
"I haven't gotten an award for anything since swimming in elementary school," he laughs. "And I think that was for 'most improved."'
To earn the Bikeus Award, says Ranger, all living Centaur MC presidents, past and present, had to nominate Franson to the active, full-time members. Of those 30 members, a minimum of 75 percent is needed to approve the nomination. Ranger says that in Franson's case, it was unanimous.
"It meant a lot to the club, seeing how emotional he became," Ranger says of Franson's reaction upon receiving the special honor. "Obviously, the club holds Todd in high esteem and values his friendship, support and camaraderie."
That relationship, says Franson – the art director for Metro Weekly – began 16 years ago when he assisted in a photo shoot of the group. From there, while not joining the club, Franson became longtime ally, photographing the Centaurs frequently and otherwise supporting the club in any way he could.
"This is a group of people I've loved and admired for a long time," Franson says. "The fact that they chose to recognize me in this way is unexpected and really nice. I'm just incredibly humbled and honored."