Some people go to Kings Dominion to ride roller coasters and bumper cars. Others go to eat cotton candy or funnel cake. And then there are those who only come to dance.
"[Last year] at 11 o'clock, when they closed down all of the rides," says Steve Henderson, "several hundred people were still coming in just to come to the dance party."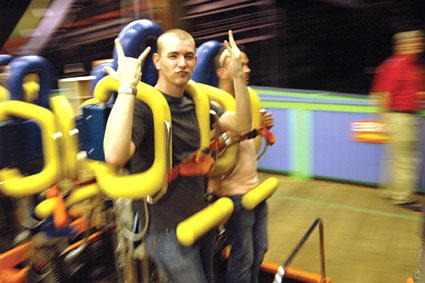 Henderson was the DJ for last year's dance party put on by Brother, Help Thyself as the capstone to its annual outing to Kings Dominion. Henderson says DJ'ing for the party was "one of the highlights of my life," in part because he has fond memories of Kings Dominion from his childhood.
And then there's the fact that Henderson was able to get the eclectic crowd – a crowd from all walks of life — to move. "I was really surprised that I was able to get absolutely everybody dancing last year," he says. "It was such a unique mix of people. Sometimes when you have a group like that, it's a lot of people standing around staring at you."
"I've never seen 3,000 people more energetic in my life," adds Henderson, a regular DJ at Secrets, Cobalt and Capital Pride. BHT's Tim Woody confirms that last year was especially festive: A record-breaking crowd of over 3,000 people from all over the Delmarva region raised a record-breaking $26,600 for local charities.
Now, they're hoping to repeat the feat. Park-goers can enjoy the roller coasters and other amusements beginning at 8 p.m. this Saturday, Sept. 10. Henderson will then helm the dance party from 11 p.m. to 1 a.m. at the park's main entrance area, International Street. Food and alcohol — and glowsticks — will be available for purchase.
Woody says there are several performances on tap for the dance party, including Town Danceboutique's The Dance Camp (formerly known as the X-Faction Dance Troupe) and the Imperial Court of Washington, D.C., of which Woody is a member. Eric Jennings of 495 Bears "will light up the night" with his lasers — and that's in addition to Kings Dominion's own summer light show, expected during the 10 p.m. hour. Organizers have also planned for a pop DJ, Drew Wofford from North Carolina, to help make the wait to get into the park a little easier.
Henderson is just hoping Mother Nature cooperates as she did last year: "It didn't rain until my last song was over."
BHT's Annual Gay and Lesbian Night is Saturday, Sept. 10, from 8 p.m. to 1 a.m., at Kings Dominion, Doswell, Va. Tickets are $33 in advance, $36 at the gate. Call 202-347-2246 or visit brotherhelpthyself.org.