Project Empowerment, a program run by the District of Columbia's Department of Employment Services, has enrolled its first full class of transgender individuals, marking the District's first publicly funded effort to specifically train and find full-time employment for transgender residents.
The program, which began Sept. 12 for current enrollees, involves three weeks of pre-employment training, where the students take classes and seminars to learn skills such as interview techniques and résumé writing, says Jeffrey Richardson, director of the Mayor's Office of GLBT Affairs.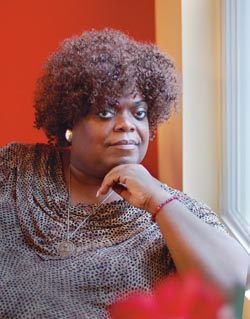 Upon completion of the first three weeks, the students then enroll in a subsidized employment program, similar to an apprenticeship, where they will be placed with employers representing a wide variety of public- and private-sector jobs for a period of up to six months.
During that six-month period, the participants will earn minimum wage, which is $8.25 an hour in D.C., Richardson explains. That job history, in turn, should give participants a résumé boost as they seek permanent employment.
As a program of the city's Department of Employment Services, Project Empowerment receives funds through regular yearly appropriations.
Richardson says the idea of offering a Project Empowerment program specifically for transgender residents evolved from ideas and feedback generated by members of the LGBT community at various meetings and forums over the past few years. The Project Empowerment program also dovetails with Mayor Vincent Gray's recently announced "One City, One Hire" initiative, which aims to get all unemployed District residents back to work by allowing them access to special programs and services, and by providing tax-based incentives to employers.
"There's also another part that the Department of Employment Services is excited about, and that's working with employers to not discriminate," says Richardson. "We know the market is tight. But we know these people sometimes show up [to interview for jobs], and then for whatever reason are not called back."
As to what incentives or encouragement would be given to employers to hire transgender people, Richardson says Department of Employment Services would apply pressure to organizations partnering with District government to conform to D.C.'s Human Rights Act, which includes protections for people based on gender identity and expression.
The advent of Project Empowerment's first full class of transgender people is welcome news to a community facing seemingly constant hostility, and its allies. Over the summer, a number of violent crimes, including assaults and robberies, have been directed at transgender women. One woman, 23-year-old Lashai Mclean, was shot and killed in Northeast D.C. July 20. On Sept. 16, a memorial to Mclean at the scene of the crime was set on fire. Police are still investigating that incident.
In the view of local transgender activist Ruby Corado, the program is long overdue.
"This program is historic," Corado said. "The mayor wants to address transgender employment. And we'd like to have some positive coverage of our community for a change."
This first transgender class contains 19 transgender females and two transgender males, says Charles Jones, director of Project Empowerment. He adds that Project Empowerment, which started in April 2001, has opened its doors to various communities within the District, such as residents with criminal backgrounds or histories of substance abuse, and given them hope of steady employment.
"The positive of this program is it allows others to come in and start receiving needed services from the city," Jones says, emphasizing a relatively high success rate. He says about 95 percent of those enrolled complete the first three weeks of classes, and about 80 to 85 percent complete the entire program. He attributes some of the drop-off to participants who gain full-time employment prior to the end of the six-month job readiness component.
"At least 70 percent of those who complete the full program will gain permanent employment," Jones says, with other participants enrolling in college or specialized vocational training programs.
To enroll in the program, participants must prove they are U.S. citizens and residents of the District. Participants must also pass a drug test to be admitted to the program.
Transgender activist Earline Budd says the program is much needed, explaining that transgender individuals are often discriminated against in hiring, which prevents them from gaining full-time regular employment, thereby pushing some into commercial sex work.
"It is not because we want to," says Budd. "It is because we are forced to, because we can't get jobs to have the quality of life, the things we should have."
Budd says other factors, including homelessness, can afflict transgender individuals, sometimes shunned by their families. She says the resulting instability that comes from having no support system – as well transitioning to a new gender identity – may create gaps in a transgender person's employment history, making employers hesitant to hire them.
"I always say being a gay male, and sometimes, a lesbian, you can kind of walk into a place and interview and it may not be so obvious," Budd says. "But with transgender individuals, a lot of times it's picked up … and we're judged based on our sexual orientation. With this project, it will provide individuals to actually have an opportunity to live a productive life, outside of commercial sex work."
For more information about the transgender Project Empowerment classes, contact the Mayor's Office of GLBT Affairs at 202-727-9493 or glbt@dc.gov.