Walking the line between comedy and tragedy is tricky. How can filmmakers draw out the appropriate emotions from their audiences? When do those triggers inspire us to laugh or cry? Or, for that matter, do both?
50/50 strikes a delicate balance between the two, straddling and steadying itself with a brand of empathetic humor that does something rarely seen in sardonic film: It encourages.
Loosely based on screenwriter Will Reiser's own cancer struggles as a 20-something, 50/50 follows Adam (Joseph Gordon-Levitt), a Seattle public radio producer after he's diagnosed with a malignant tumor on his spine. And there's a lot to follow.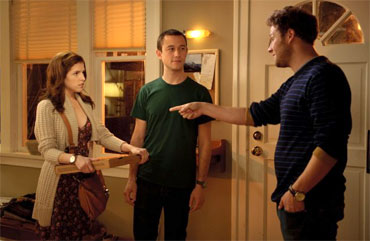 50/50: Kendrick, Gordon-Levitt and Rogan
His girlfriend (Bryce Dallas Howard) hides uncertainty under a veneer of support, his best friend (Seth Rogen) distracts him with bong rips and skirt chasing, his clingy mother (Anjelica Huston) smothers him with "help," and a doctoral psychology student (Anna Kendrick) nudges him toward recovery. Plus, you know, all the bits about chemotherapy.
Amid those sly set pieces, Reiser's script whips with a delightful wit and charm – all the more appealing since Rogen gets opportunity after opportunity to deliver it. (With a bit of creative license, Rogen is basically reprising his own life, as he and Reiser are long-time friends and talked about making 50/50 for years.) Sure, from time to time Rogen's schtick out-muscles the rest of 50/50's humor, but his lines are welcome treat, not an overbearing pest.
Of course, it only works because he's foiled against a nuanced performance from Gordon-Levitt that's not only necessary, but compelling. His Adam is a careful rule-follower – habitually chewing his nails, never jay walking, and forgoing a driver's license because he's worried about car crashes – yet he rightly avoids timidity or meekness. He isn't an inspiring case of the power of human will. He's just a guy with a problem nobody wants to have.
And that's where director Jonathan Levine shines. He skips and jumps between points of recovery, setting a mood that's not quite morose, but ripe enough for the gallows humor that 50/50 often employs. There's one particular scene early in the film, after Adam gets high on THC-infused macaroons during his first round of chemo, where Levine hits his high mark. While the camera fades in and out of focus, Adam – a very, very stoned Adam – stumbles through the hospital, giggling at cancer patients and corpses. It's a weird and honest instance that's funnier than it deserves, without ditching any blight or uneasy feelings. It's the point where Levine is telling us that it's fine to laugh, but it's going to hurt like hell.
50/50




Starring
Joseph Gordon-Levitt
Anna Kendrick
Seth Rogen
Anjelica Huston
Rated R
99 Minutes
Opens Sept. 30
Area Theaters
There are plenty of reasons to see 50/50. The character actors on display – including Huston and the always-excellent Philip Baker Hall – shine through a script that's a tad star-heavy. Gordon-Levitt and Kendrick share an incredibly unethical, but nonetheless charming repartee of sweet flirtation. Rogen does his cursing, weed-smoking best. Still, if you need a single reason to see 50/50, let it be this: It's an honestly funny take about how people react to cancer.
Mel Brooks once said, "If I got a paper cut, that's a tragedy. If you fell down an open manhole and died, that's comedy." I'm not sure if cancer as comedy is reliable, but 50/50 proves that it's worth it to try.