The D.C. medical examiner's office has ruled that the death of Gaurav Gopalan, a local theater enthusiast who was found dead in the city's Columbia Heights neighborhood on Sept. 10, was a homicide.
"The cause of death is subarachnoid hemorrhage due to blunt-impact head trauma," Beverly Fields, spokeswoman for the Office of the Chief Medical Examiner, told Metro Weekly, confirming a Washington City Paper report earlier today. "The manner of death is homicide."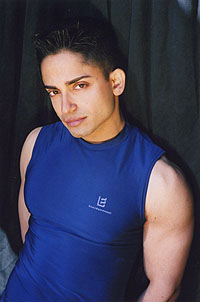 Gaurav Gopolan (from Metro Weekly, 2005)
(File photo by Jeff Code)
Subarachnoid hemorrhage is bleeding between the brain and the thin layer of tissue that covers it, which can occur spontaneously or as the result of a head injury.
Fields would not elaborate regarding Gopalan's physical condition or the nature of the head trauma sustained.
At a Sept. 12 news conference regarding the death, Assistant Metropolitan Police Chief Peter J. Newsham told reporters that there was "no significant visible trauma" to the deceased, who had not yet been identified as Gopalan.
But Jason Terry, an organizer with the DC Trans Coalition, told Metro Weekly that MPD Assistant Chief Diane Groomes had called him on the morning of Sept. 10 and told him the victim, who was thought to be transgender, had suffered trauma to the face.
News of Gopalan's death came during a week marked by several violent incidents directed at transgender individuals in the District. Part of the confusion surrounding the identity of Gopalan stemmed from the manner in which he was dressed at the time of his death.
Gopalan, 35, was found dead on the west side of the 2600 block of 11th Street NW, wearing makeup, a black and purple jacket, a gray shirt cut like a camisole and carrying high heels.
Representatives from the Metropolitan Police Department's Public Information Office refused to comment on the case or the medical examiner's findings, saying only that the case remained open and was under investigation.