On Monday, Sept. 12, U.S. Attorney Ronald Machen Jr. — the lead prosecutor for the U.S. District of the District of Columbia — filed a motion seeking to have the district court order the magistrate court hearing former Lt. Dan Choi's trial to refrain from allowing "selective or vindictive prosecution as a defense to the charge of failure to obey a lawful order."
The government successfully sought to have Choi's trial halted temporarily on Aug. 31 after Magistrate Judge John Facciola announced that he found a prima facie case had been made for Choi's lawyers to seek evidence to make a defense of vindictive prosecution.
Choi is being tried in federal court as the result of his November 2010 arrest for protesting the "Don't Ask, Don't Tell" policy by handcuffing himself to the White House fence on Pennsylvania Avenue.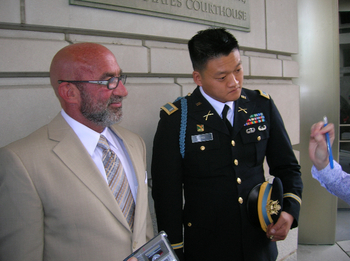 On Aug. 31, Assistant U.S. Attorney Angela George told the court that the government would be filing a writ seeking to stop the judge from allowing Choi's lawyers to pursue a vindictive prosecution defense. When Facciola asked if the government would be willing to dismiss the charges, George said no.
With that stalemate, Facciola halted the trial for 10 days to allow the government to file the writ.
In the filing, signed by George, the government argues that Facciola failed to rule on a pre-trial motion filed by the government seeking to prohibit introduction of a selective prosecution claim. The reason the government filed that motion, it argues, is because Choi's counsel had not filed a pretrial making a claim of selective or vindictive prosecution. As such, the government argues, Choi waived his right to raise such an issue at trial, which is why it filed the motion — called a motion in limine — on which it states Facciola failed to rule.
Additionally, the government argues, because the vindictive prosecution claim has only been raised after the trial began, "jeopardy has attached," meaning that Choi could not be tried again. The government further argues that because the vindictive prosecution claim is being considered as a defense, and not as a pre-trial question, success for Choi on that argument would result in an acquittal — an outcome from which the government cannot appeal.
The filing goes on to argue, "Such a finding also could cause irreparable damage to the reputation of the United States Attorney's Office, as it would directly attack the very integrity of the institution. Where there is no merit to either the selective- or vindictive-prosecution theories, the risk of such irreparable harm is clearly unwarranted."
Choi's lawyer, Robert Feldman, told Metro Weekly earlier this week that Choi's legal team will be filing a response to the writ soon.
Read the government's filing: Choi – Writ of Mandamus.pdf
[Photo: Attorney Robert Feldman and former Lt. Dan Choi speak with reporters outside of court. (Photo by John Riley.)]