As news spreads that the Sept. 10 death of Northwest Washington resident Gaurav Gopalan, 35, has been ruled a homicide by the city's medical examiner, those close to the local theater booster remember Gopalan as a gentle, caring, selfless person with a keen mind and strong passion for the work he undertook.
"He was a loving human being," says his partner of five years, Bob Schaeffer. The two lived in Columbia Heights with two dogs, Ginger and Pinto, and two cats, Princess and James, who Schaeffer calls "our children."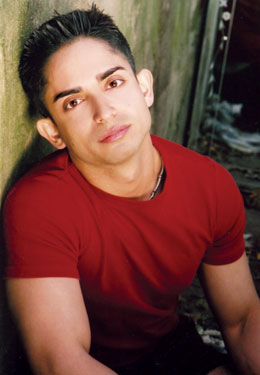 Gaurav Gopalan (2005)
(Photo by Jeff Code / Metro Weekly archive)
Schaeffer, 63, met Gopalan during a community theater performance while they were outside smoking cigarettes. The two exchanged numbers, communicated via email and eventually had their first date, Oct. 1, 2006.
"I remember our first Christmas together," Schaeffer says, his voice cracking, catching on a sob. "I spread it out over 10 days, with a present each day. He was like a child, he was so happy."
Other people close to Gopalan remember a person with an endless supply of energy, intelligence and zest for life.
"Everyone who worked with him adored him," says Christopher Henley, artistic director for WSC Avant Bard, formerly the Washington Shakespeare Company, with whom Gopalan worked on a number of performances. "He was full of insight, full of passion for what he was doing."
"It wasn't just one thing," says Rishabh Misra, Gopalan's friend of 17 years. "He was a genius. He was one of the smartest guys I've ever known."
Born in Katmandu, Nepal, Gopalan grew up in Delhi, India, and attended the Indian Institute of Technology at Kanpur, where he earned a bachelor's degree in aerospace engineering. He then moved the United States, earning a master's degree and doctorate from the University of Maryland.
He then worked as a research assistant for the Alfred Gessow Rotorcraft Center at the University of Maryland's Department of Aerospace Engineering, applying his technical skills to a number of contracts for NASA investigating helicopter noise reduction. In 2010, he founded and became president of the Fred Schmitz Group, an aerospace engineering consulting firm.
Schaeffer and Henley both say Gopalan was close to his family, especially his mother, with whom he'd talk almost every day. He had one brother who lives in Nepal and would occasionally visit, and a few cousins living in Philadelphia. Gopalan had planned to leave on a four-week trip to Nepal to visit his family just days after he was found dead.
"He was extremely happy when I saw him," says Misra, whom Gopalan visited in New York City during the week preceding his death. "He was planning to visit his family in Nepal and he was excited about that. He was his usual vibrant self."
A passionate dramatist with a love of Shakespeare – he could quote passages verbatim – friends remember Gopalan most dearly for his involvement in the Washington theater scene. Henley, for instance, first met Gopalan after Gopalan wrote him a letter in 2006 offering to do anything to be a part of the company's performances.
After working as the assistant director for the company's production of Richard III, Gopalan became known as such a dedicated worker that Henley promoted him to resident assistant director. In that position, Gopalan expressed his passion for and intimate knowledge of Shakespeare's work, directing productions such as Edward III and a nude version of Macbeth. Gopalan left the position at the end of the summer of 2007 to focus more on his work as a contractor for NASA.
"His supervisor at work began grooming him for more responsibility, and he didn't have a green card – he was only here because of his job – so he pulled back a little," Henley says. "But he still kept strong ties with the theater community."
True to form, after receiving his green card, Gopalan immersed himself in the world of Washington stage, working at The Zenith Theatre, The Studio Theatre and the Constellation Theatre Company in various capacities ranging from technical advisor to stage manager to dramaturge. In 2009, he returned to work with WSC Avant Bard, where he and Henley co-directed Anton Chekhov's The Cherry Orchard.
"Chekhov was Gaurav's second love after Shakespeare," says Henley.
Henley recalls often talking with Gopalan about the theater and ideas for potential future performances. Gopalan had mentioned possibly putting on Shakespeare's Two Noble Kinsmen, his favorite Shakespeare play, or developing a solo Shakespearian piece in the South Asian theater tradition.
Jason McCool, a D.C.-based actor who worked with Gopalan on a number of projects, including Constellation Theatre Company's The Ramayana, says Gopalan was one of the most passionate directors and dramaturges he'd known.
"He'd leave me five-minute long rambling messages on his latest creative ideas for staging at 2 a.m. and then just sort of say 'bye' and hang up," McCool says. "He always called himself the 'Big Idea Guy."'
But Gopalan was also a very private person, with a softer, emotional side that those particularly close to him would see occasionally.
McCool recounts one such occasion, as Gopalan hosted a birthday party for Shakespeare, coming to the door dressed head-to-toe in Renaissance costume. At the party, Gopalan had those assembled – mostly actors and actresses – read some scenes from Shakespeare's works.
When it came time for Gopalan to read, says McCool, he chose the balcony scene from Romeo and Juliet.
"He strongly identified with Juliet," McCool shares. "He got three to four lines in, paused and just started crying because he was overwhelmed. He just identified with the scene so much and so loved it."
"Gaurav was always very feminine, very sensitive," says Misra. "Very recently, he did drag for the first time, about a week before visiting me. I had the impression it was very new, and that he wanted to experiment with that." Misra adds that Gopalan had called himself Gigi, a persona he fashioned for himself based on his initials, G.G.
In the days following the confirmation of his death, friends, acquaintances and even distant relatives flooded Gopalan's Facebook wall with prayers, messages of love and stories memorializing him. At the bottom of his profile page was an anonymous quote Gopalan had listed as one of his favorites:
"God is that which leads you to the Truth about Yourself, that which makes you, You."