"For many of us, this is a dream long deferred," Michelle Benecke says. "I've been working on this for 22 years, since I resigned my commission in the Army because of the gay ban and began publishing and speaking in 1989 – under the old ban."
In the early days, although some thought ending the ban should have been obvious, it wasn't.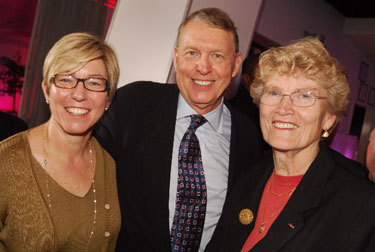 Michelle Benecke, Servicemembers Legal Defense Network executive director Aubrey Sarvis and Col. Margarethe Cammermeyer (Ret.) at SLDN's event celebrating the repeal of "Don't Ask, Don't Tell."
(Photo by Ward Morrison)
When the now-retired Col. Margarethe Cammermeyer began her journey into military – and U.S. – history, she thought it would be quick and easy.
"I thought in 1991 – when I got my initial separation – I thought that fighting the policy to begin with would … be a piece of cake, that they would see the error of the policy and not want to discharge this really good Army nurse," she says of her discharge from the National Guard.
"And I was shocked and hurt and stunned and everything else when I was discharged."
But then, in a legal battle that made Cammermeyer an early hero of open military service for lesbian, gay and bisexual people, she fought her discharge – and won.
"But, in the interim came 'Don't Ask, Don't Tell,"' she sighs. "Everyone thought that you could compromise with the whole notion of [out LGB] people serving, and then to have to live a lie under 'Don't Ask, Don't Tell' – and see the cost that it had to both the military as well as to individuals – it was appalling."
Benecke, who co-founded Servicemembers Legal Defense Network with Dixon Osburn in the wake of the law's passage in 1993, says that loss left a lot of uncertainty.
"People forget what it was like in 1993. The right wing portrayed us as diseased aliens who wanted to hurt the military – and raised the specter of AIDS at every opportunity," she says. "It's hard to explain that time, but they manipulated people's fear of AIDS to paint us as the other. For lots of reasons, not just because of AIDS, but definitely, gay people were painted as the other – as strangers trying to hurt the military."
Looking at that landscape, she says, "In my view, we were at a pre-civil rights framework. First, we had to get people to recognize our humanity, and servicemembers did that by telling their stories."
And so, she and Osburn began SLDN the day after President Clinton signed the bill into law. From that early support, gay, lesbian and bisexual servicemembers became not just the subject of the law but a key part of its repeal.
Rear Adm. Alan Steinman, who came out in 2003 after his retirement from the U.S. Coast Guard and is the most senior military officer to have done so, sees that as key. Talking about a 2006 Zogby poll of Iraq and Afghanistan veterans that found an overwhelming majority of veterans had or at least believed they had served with gay servicemembers and that most of them saw no problem with their service, Steinman says, "That's when 'Don't Ask, Don't Tell' really died."
Benecke agrees, saying, "I feel really proud of the military members who were innovative and resourceful in finding ways to organize and participate in ending 'Don't Ask, Don't Tell,' despite a law that tried to silence them and coerce them into invisibility."
Despite the decades of opposition, military officials have now said the end of DADT likely will be a non-event. And Steinman says that's the way it should be.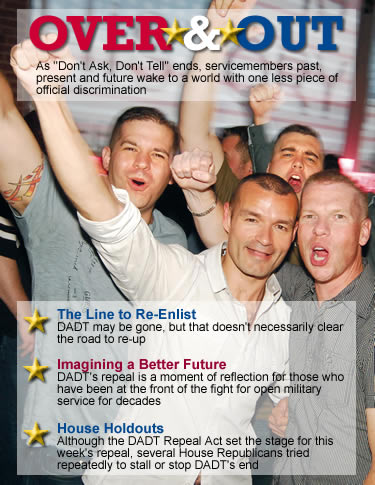 "We can celebrate as a community and point out the historic importance of that to us and to the country, and the military itself can say, 'Enh, no big deal.' And walk on."
Agreeing that it's a "cause for celebration," Benecke also calls repeal "a bittersweet moment for many people who sacrificed everything to get us to this point.
"It's appropriate to remember their sacrifices today."
Cammermeyer says, "Certainly, looking back, it all seems surreal."
But, with the optimism of a person who has seen many such moments, she adds, "Looking forward is like, 'I wonder what will happen tomorrow?"'