Do you remember your first kiss with a lover?
The moment you let your guard down and melt into another person can be a mind-altering, life-transforming moment. But even if the chemistry wasn't right, at the least you didn't nearly die.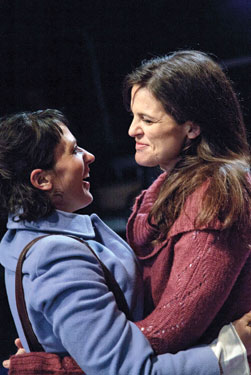 Stop Kiss: Wilmoth and Zampelli
(Photo by C. Stanley)
A first kiss is supposed to be memorable, but not like that.
That's precisely what happens to the character Sara (Alyssa Wilmoth) in Diana Son's incredibly moving Stop Kiss. Sara develops a close friendship with Callie, played by Rachel Zampelli. Slowly, surely the friendship turns into something more. The two women are ostensibly straight, each with a man in her life, but they're both curious to see what else life might have to offer. But as soon as the generally aimless and indecisive Callie for once takes a stand and decides to kiss Sara, their lives are changed forever.
In something of a masterstroke of plot and pacing, Son's evocative play keeps us waiting for the women's first kiss. In fact, Son's script is remarkably restrained about the whole situation and its aftermath. The play builds tension and anticipation by alternating between various scenes that come before and after the fateful kiss.
Holly Twyford, one of Washington's best actresses, made a name for herself in no small part by taking on the role of Sara in D.C.'s first production of the play, staged by Woolly Mammoth in 2000. Now, Twyford is making an incredibly auspicious debut as director of No Rules Theatre Company's production, which was planned a year ago, or well before the recent rash of transgender bashings in D.C. It would be a must-see production on its own merits, but the timing makes it even more critical.
The evening playfully launches with Callie bounding around her Manhattan apartment, lip-synching to Queen's "Somebody to Love." Soon enough, Sara answers her lip-synched prayers. Sara has just moved to New York from St. Louis on a challenging fellowship to teach at-risk elementary students in the Bronx. She's as green to the wily ways of the big city as she is ambitious and fearless, with a real sense of purpose. Callie, on the other hand, is an old-hat jaded — spoiled — New Yorker type, who downplays interest and any sense of drive in her own successful career as a radio traffic reporter and in most aspects of her life except for fine dining.
Both Zampelli and Wilmoth are outstanding. They give such casual, naturalistic performances, and exude such real chemistry, the audience almost feels like it's intruding on their budding relationship, invading their privacy. It's as if the two are Callie and Sara, not actors playing fictional characters. The rest of the cast achieves this to varying degrees of success. Most notable is Jonathan Lee Taylor, convincing as Sara's angry, confused, distraught ex-boyfriend, fighting his natural Midwestern inclination toward stoicism.
STOP KISS





To Oct. 2
The H Street Playhouse
1365 H St. NE
$25
336-462-9182
norulestheatre.org
But it's not just the acting. Most aspects of the production seem natural and effortless — as if it were real life, not put-on drama. Tony Cisek's lived-in set pieces, especially Callie's sofa bed, in a near-constant state of disarray, are about as non-stagey and realistic as a stage gets. And Twyford's subtle, fluid way of transitioning between the show's complicated, cinematically inspired scenes, 23 in all, is delightfully dexterous. She's ably assisted here by "Scenic Charge" Daina Cramer, who helps Zampelli, say, take a few steps and leave one "room" to go to another whole scene, all boosted with just a quick adjustment of light. There's nothing too static or overly dramatic about it.
Because of the sensitive way it deals with love and hate, especially by employing a notable economy of words and emotion, Stop Kiss feels like a helpful step to take on any road to healing.