Actress Rachel Zampelli decided it was now or never to push for a new production of Stop Kiss. "I was looking into the mirror, wondering how much longer I'm going to be part of this world," Zampelli jokes.
In all seriousness, her push couldn't have come at a more fitting time. Diana Son's play centers on a bashing of two women after they kiss in a public park. Zampelli plays one of those women in a No Rules Theater Company production that opened earlier this month — nearly coinciding with this summer's spate of violence against members of the transgender community.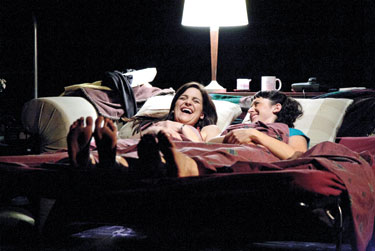 Stop Kiss: Zampelli and Wilmoth
(Photo by C Stanley)
"That is what's so crazy to me," says No Rules Co-Artistic Director Joshua Morgan. "The stars aligned in this weird, fucked-up way."
The young theater company signed off on the production a year ago, but only after prolonged persuading by Zampelli and Holly Twyford that Son's play was, however sad to say, still relevant 13 years after its off-Broadway debut. "I will admit I was not sold on that right away," concedes Morgan.
It helped that Zampelli had already recruited Twyford, who famously starred in Woolly Mammoth's Stop Kiss production 11 years ago, to make her directorial debut with the new production. Morgan says Twyford further sold him by noting that a younger generation needs to see the show. Proving the point, a queer 19-year-old told Morgan after a recent performance, "This show means a lot to me, especially now. Because it hasn't gotten any better."
No Rules has hosted one post-show discussion with representatives of SMYAL, and a second, with the DC Trans Coalition, is set for Thursday, Sept. 29, moderated by Metro Weekly's Sean Bugg. Morgan stresses that Stop Kiss "is not a gay play." Ultimately, it's a play about love and hate, and the insecurity of the human condition.
Zampelli, who first fell in love with Son's script while studying it in college a decade ago, says getting to star in it has proven to be even more fulfilling than she expected. "It's a show that makes [an actor] remember why you decided to get paid 10 times less than everybody else your whole life."
Stop Kiss runs to Oct. 2 at the H Street Playhouse, 1365 H St. NE. Tickets are $25. Call 336-462-9182 or visit norulestheatre.org.