"I want my child to be able to marry whoever she wants to marry when she grows up, and have the same rights as everyone else," says Audra McDonald. Her daughter Zoe Madeline (named for actors Zoe Caldwell and Madeline Kahn) is 10. "I'm not saying my child's gay — she may be someday, I don't know. Who knows now? But she deserves all those rights as every other [person] in the United States."
An award-winning singer and actress, McDonald has long been a staunch supporter of gay rights and especially gay marriage, in part, as she puts it, because "some of the closest people in my life are gays and lesbians. I consider them family."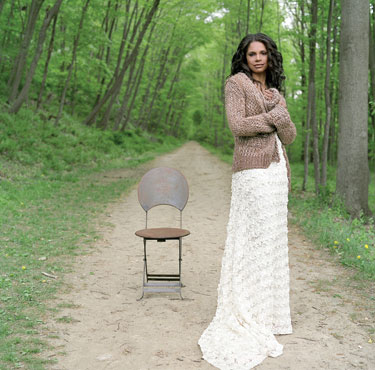 Audra McDonald
(Photo by Michael Wilson)
"[To me] marriage equality is a civil right," she says, bluntly. "It's a crime that [gay people] are not afforded that right.
"Certainly, I'm a child, a product of what came because of the civil rights [movement]," continues McDonald, who is African-American. "Without civil rights, I certainly wouldn't have been able to do half the things I've done. And so I feel it's just my duty to do whatever I can to help push it along to get marriage equality for everybody.
"I'll keep running my mouth until it's made right."
Originally from Fresno, Calif., McDonald's Broadway career took off quickly in the mid-1990s, and she would go on to earn her first three Tony Awards (she has four to date) in her first four years.
More recently, she played a leading character on ABC's medical drama Private Practice. And McDonald, who actually earned her undergraduate degree in classical voice at Juilliard, has also become a regular guest soloist with many leading opera companies over the past five years.
She's currently working on perhaps her most challenging project yet, not to mention most controversial: taking on the role of Bess in a forthcoming Broadway revival of the Gershwin opera Porgy & Bess. "It's certainly a role that I've wanted to play for a very long time and never felt ready to," says McDonald, who had memorized the whole show by age 19.
Part of the challenge is "re-imagining" the role — and the show — to make it more relatable, a challenge led by director Diana Paulus and Pulitzer Prize-winning playwright Suzan-Lori Parks.
"There's been lots of controversy about Porgy & Bess over the years, about the fact the characters are stereotypes," McDonald says. "We've kind of worked to make some of those things a little more palatable without taking away the basics of the incredible, beautiful story."
Their efforts, during a run in Massachusetts this summer, caused controversy anew, most notably from composer Stephen Sondheim. Broadway's leading living statesman essentially charged the revivalists with disrespecting the original text and its defenseless, dead authors — never mind that the authors' estates support the changes.
"Well, in the end," McDonald reasons about the dust-up, "if it's gotten people talking about theater, there are worse things. I'd rather have people talking about theater than what happened on Jersey Shore this week, you know? It's good in the end. It creates dialogue."
Next Tuesday, Oct. 4, McDonald will offer a solo concert at the Kennedy Center, presented by the Washington Performing Arts Society. The evening will include songs from the Great American Songbook and Broadway musicals, both new and old. But one show will be conspicuously absent from the program.
"I need to give my Porgy & Bess a rest before I start up again in December," McDonald concedes. Rehearsals for the Broadway transfer start a few weeks before Christmas.
Actually, McDonald doesn't appear to be much for "rest." The Kennedy Center show could have easily been a slapped-together revue of career highlights so far. Instead, she calculates that "60 percent of it is new material for me."
She'll even accompany herself on piano for one song, a career first. "I've played piano my entire life," says McDonald, the granddaughter of two piano teachers, "but it's something I've just done on my own. I've never played in public before.
"I'm trying to scare myself to do it."
Audra McDonald performs Tuesday, Oct. 4, at 8 p.m., in the Kennedy Center Concert Hall. Tickets are $25 to $85. Call 202-467-4600 or visit kennedy-center.org.