Among tragically themed musicals, Parade marches to the beat of a particularly bleak (and real) drummer: Leo Frank, a Northern Jewish factory manager doomed to die in a lynch mob's noose after he's accused of raping and murdering one of his teenage workers in early-20th-century Atlanta.
Euan Morton — such a charmer in Chess last season at Signature Theatre — has to keep his radiance in check in the role of Leo at Ford's Theatre, where Washington audiences are getting their first chance to see Parade since its brief Broadway run more than a decade ago. Although playwright Alfred Uhry and composer-lyricist Jason Robert Brown's creation is unequivocal in asserting Leo's innocence, he is ultimately a protagonist who is far easier to feel sorry for than to cheer on.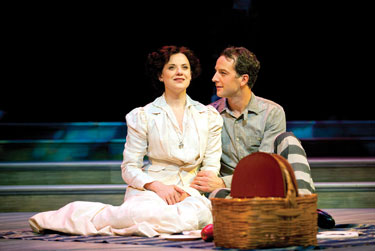 Parade
(Photo by Charles Erickson)
Parade unfolds like a high-minded sermon about a decent man caught in the wrong place — the South — at the wrong time: when a prejudicial swirl of racism and anti-Semitism poisoned a populace still nursing the wounds of the Civil War. In his Atlanta surroundings, Brooklyn-bred Leo is already nervous to a breaking point by the time 13-year-old Mary Phagan (Lauren Williams) is attacked and killed at the National Pencil Factory on Confederate Memorial Day, the event that lends a parade motif to the show's title.
In denial about his dire judicial straits once he's targeted for conviction by Solicitor General Hugh Dorsey (James Konicek), the imprisoned Leo immerses himself in the same kind of bookkepping minutia he thrived on at the factory, and he recoils from his more emotional wife, Lucille (Jenny Fellner), and her attempts to help him fight for his freedom.
By the end of the first act, Leo's prickly demeanor dissolves in the horror of his conviction and death sentence, and over the course of the second act, he becomes more relatable as he opens up to Lucille, accepts her help and shows her more appreciation.
It's her efforts, in fact, that lead Gov. John Slaton (Stephen F. Schmidt) to examine the case and commute Leo's death sentence to life in prison — a step toward a full pardon, Lucille is certain. But the governor's decision sparks the outrage that consumes the citizenry and destroys Leo.
The final moments of Parade are surely some of the most troubling and pulse-quickening you'll encounter in musical theater, and there are languid stretches of the show that could certainly use such uncompromising theatricality. At other times, director Stephen Rayne simply, and rightly, relies on heavenly voices that befit the show's sermonic tone: Morton and Fellner; Kevin McAllister in roles including Jim Conley, a black factory worker used as a pawn against Leo; and Matthew John Kacergis, who opens the show in a Civil War flashback as a young soldier singing a gorgeous tune, "The Old Red Hills of Home."
Parade



and one half
To Oct. 30
Ford's Theatre
511 10th St. NW
$15-$75
800-982-2787
fords.org
There's something of a sermon at the heart of another musical, too: Fela! at Sidney Harman Hall. The preacher is Nigerian musician and activist Fela Kuti. The setting is turbulent 1970s Africa. The venue is churchlike: Kuti's Shrine nightclub in Nigeria's then-capital, Lagos. And Fela wants your unwavering belief in two things: Afrobeat music, and him.
This touring production of Fela! (on the heels of Broadway and London runs) makes a convincing case for both. The music is mesmerizing, and so is Sahr Ngaujah, who embodies Fela with palpable sensuality and unrelenting energy.
Director-choreographer and co-creator Bill T. Jones surrounds Fela with visually stunning women whose demeanor and movements suggest the Kit Kat Girls of Cabaret or the taxi dancers of Sweet Charity. This isn't such conventional musical theater terrain, though.
FELA!



and one half
To Oct. 9
Sidney Harman Hall
610 F St. NW
$25-$130
202-547-1122
shakespearetheatre.org
There is a story to be told — of Fela's creative and political awakening, of his suffering at the hands of oppressors in his country, of the beloved mother he lost to political violence — but it's conveyed through the conceit of live performance banter, combined with often-dizzying streams of multimedia elements sprawled across an already eye-popping set.
The energy built up throughout the first act isn't sustained all the way through the second — especially in a drawn-out "dream sequence" of sorts (with white-costumed dancers in black light, no less) that finally resolves Fela's quest to make peace with his dead mother. But Fela! succeeds nonetheless in making you think about other, challenging political realities. And it professes the power of music to undergird life, even at its most difficult. Amen to that.