Despite the wind and rain, the National Lesbian & Gay Journalists Association National Convention and Media Summit went on as planned, Aug. 25 to 28, in Philadelphia. One highlight of the convention was the awarding of the NLGJA's 2011 Excellence in Journalism Awards, which recognized Metro Weekly in four categories.
Chris Geidner, Metro Weekly's senior political writer, won first place for Excellence in News Writing for his 2010 coverage of "Don't Ask, Don't Tell" repeal. Geidner also received Honorable Mention for the Sarah Pettit LGBT Journalist of the Year award, and won second place in the Excellence in Online Journalism award for coverage of Proposition 8 on Metro Weekly's political blog, Poliglot.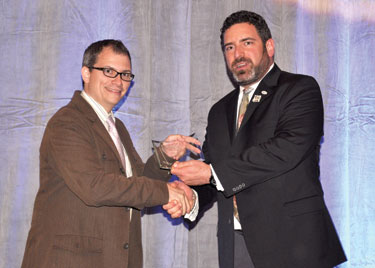 Chris Geidner receives award from NLGJA President David Steinberg
(Photo by Scott A. Drake)
Metro Weekly co-publisher Sean Bugg took second place in the Excellence in Opinion Writing category for his July 2010 piece on transphobia, "Learning Experiences."
"If there's anything I've learned in the past 10 to 15 years working at Metro Weekly, it's that we misunderstand what it means to be transgender far, far, far too often," Bugg says of his awarded opinion piece, adding, "Nobody really does this to get awards, but they're really cool when you get them, particularly when they're from your LGBT peers, which makes it even better."
Geidner expressed his satisfaction at being able to contribute to the coverage of DADT repeal from a front-row perspective.
"Clearly the key issue going on in D.C. last year for LGBT people was the repeal of 'Don't Ask, Don't Tell,' he says. "So I think it was important that the NLGJA recognize the good reporting that went on from several people in D.C. on the issue. It made me happy to see my work on that topic, specifically, recognized for the news value that it provided for people interested in that issue."
He says his legal background has also been invaluable in covering issues such as Proposition 8 as they play out in the courts.
"I'm basically able to skip a step," he explains. "When court rulings come down, when filings are made, I can review them and get a very quick sense of what's the bottom line, what happened, skipping the middle man – the middle person – of needing to call an attorney to find out what it means. And also then really digging into it then and writing an analysis piece that explains how I see what has happened at any given point."