Adaptation is a funny thing. What worked so shamelessly and wonderfully for adaptor David Ives in the Shakespeare Theatre Company's production of The Liar two seasons ago feels like way too much of a good thing in his latest re-invention, Regnard's The Heir Apparent.
A barely-faithful take on this 18th century comedy of a young and impecunious nephew trying to wheedle a fortune out a thoroughly crotchety old uncle, there is far more here to make the wit-challenged guffaw on their gum (yes, they are the ones chomping away in the dark like they think all theater is "home" theater) than there is for those in need of the wry and dry. And it's not the diarrhea jokes that grate (never met one I didn't like), it's Ives' frantic dependence on SNL-style modern reference as well as his hideous nods to Vaudeville.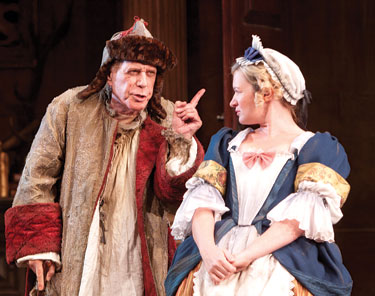 Heir Apparent
(Photo by Scott Suchman)
It's almost enough to make one ask why we cower so from touching the words of Shakespeare's comedies — expecting audiences to just deal with it — when at some indeterminate later date it seems A-Okay, indeed preferable, to genetically modify plays into these new and improved states of accessibility.
Still, even with his over-zealous representation of all that is smugly new, Ives nevertheless (and perhaps despite himself) shows much evidence of an ironic wit. And there is perhaps no one better to deliver it in the role of the ancient but formidable uncle Geronte than the pricelessly wonderful Floyd King. The keeper of flawless comedic timing and a gentle but persistent aura of irony, Floyd gets endless mileage from Geronte. Yet, even as he delivers the best laughs of the night, seeing Floyd's noble face in serious repose amid ropes of bedraggled hair, one can't help but long to see him in a leading dramatic role.
Geronte (and thus Floyd) feature more in the first act, and there is far more time in act two in the company of the young quartet of actors who conspire, ever more frenziedly, to ensure that Geronte's nephew Eraste inherits the old man's estate. The two for whom it comes easiest are Carson Elrod, playing Crispin, a manservant, and Kelly Hutchinson as Lisette, Geronte's long-suffering maid and Crispin's girlfriend. Though Elrod doesn't bring the nuance of experience, he does bring tremendous energy and some verve as he plays all manner of dress-up to fool Geronte. Hutchinson tends towards a distracting actorly vocal huskiness, but once in the swing of things, she offers a piquant edge to her earthy one-liners.
Less effective is a slightly squashed Meg Chambers Steedle as Isabelle, Eraste's paramour and the fleeting target of Geronte's crusty attentions. Chambers Steedle knows what she needs to do but can't quite revel in it. As Eraste, Andrew Veenstra has the opposite problem: he has the chutzpah but doesn't quite know how to work it. Perhaps these are issues that will resolve with time and experience, but the unevenness of this quartet — which carries so much of Ives' more heavy-handed loa — is unable to make a silk purse out of the proverbial pig's ear. And there is a pig's ear. Literally.
THE HEIR APPARENT



To Oct. 23
Lansburgh Theatre
450 7th St. NW
$39-$95
202-547-1122
shakespearetheatre.org
Playing at the Shakespeare Theatre Company's Lansburgh Theatre through October 23, 2011.
Keeping her well-bustled end up is a determined-to-enjoy-it Nancy Robinette as Isabelle's grasping mother Madame Argante. Always a comic joy, Robinette nails her one-liners with style and energy, but it's actors like her and King who make one desperate to see what they would have made of the challenges and comic glories of the original play. Understated and staying well clear of the Vaudevillian abyss, Clark Middleton brings an engaging color to his Scruple, the lawyer caught in the middle of the shenanigans.
And yet, even as some percentage of an audience will get nothing more than a pleasing chuckle or two at the drier exchanges and asides in the first act, there are plenty more who will find Eraste yelling "Tennessee!" yet again, hilarious. Director Michael Kahn knows his crowd and he embraces Ives' highs and lows with a cracking pace and a mood that keeps everybody feeling like they're in on the joke. If only that joke was funnier.