"In all of these three years, favorite moments are often the last song that we play," says Shea Van Horn. For example, at the July Mixtape, the monthly party he DJs with Matt Bailer, the closing song was Janet Jackson's "Love Will Never Do Without You."
"Everybody was kind of screaming along at the end of the night," says Bailer. "It was awesome."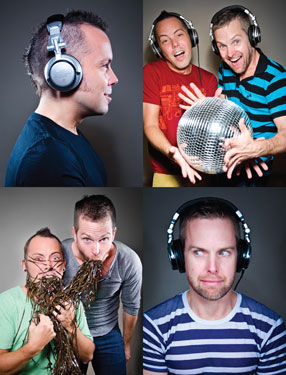 Mixtape
(Photo by Julian Vankim)
Van Horn and Bailer started Mixtape in September 2008 to offer something different than a regular night out at a gay club – or, as Van Horn puts it: "Adding to the mix of what's out there." Mixtape is a "nomadic" party, touching down at different venues, mostly straight or off-the-beaten-gay path. It launched at the Ethopian Dahlak Restaurant and has since been thrown repeatedly at the Warehouse, DC9, Rock and Roll Hotel, the former EFN Lounge and the Black Cat. Town will host it for only a second time next Saturday, Sept. 10, for the party's third anniversary. (Town also hosted the first anniversary in 2009.)
Just don't expect a normal Saturday night upstairs at Town. There won't be go-go dancers or any performances, other than Van Horn and Bailer DJ'ing. And the focus is on vocal-driven dance-pop, both new and classic, mainstream and alternative — but rarely deep house or tribal — with minimal musical transitions from song to song.
"Why am I hearing the Pointer Sisters at Town?" Bailer asks rhetorically, indicating how the music will differ from a regular Saturday. Madonna, Robyn, Gossip, Basement Jaxx, Depeche Mode and Cazwell are all repeat offenders at Mixtape.
Van Horn singles out the packed Pride 2009 Mixtape as a highlight, held at the black-box Warehouse Theater next to the Convention Center. "It was just so exciting to see that we were able to bring people together for a dance party in a rundown theater in sort of the middle of nowhere," he says.
Part of the party's appeal is the enthusiasm its organizers have toward music. "When I'm playing songs that I love," says Bailer, "I go crazy dancing to them."
Van Horn does as well. In fact, it was Van Horn's dancing that sparked the pair's working relationship in the first place. Bailer spotted Van Horn dancing at the old Taint party at DC9.
"I didn't know who he was — at the time he wasn't quote-unquote Shea Van Horn," says Bailer. "And I just walked up to him and I was like, 'I love the way you're dancing. You're having such a good time, you're someone that I want to know.' And now that's what we do. We make each other dance."
Mixtape's 3rd Anniversary Party is Saturday, Sept. 10, at 10 p.m. at Town Danceboutique, 2009 8th NW. Cover is $8 before 11 p.m., $12 after. Call 202-234-TOWN or visit towndc.com.