There's something truly troubling about Trouble in Mind.
A half-century ago, Alice Childress was set to become the first African-American female playwright on Broadway.
But the 1955 backstage comedy-drama Trouble in Mind proved to be too candid and provocative in its discussion of race and racism at the dawn of the Civil Rights Era. Childress tried in vain to meet her Broadway producers' demands to give the play a happier ending.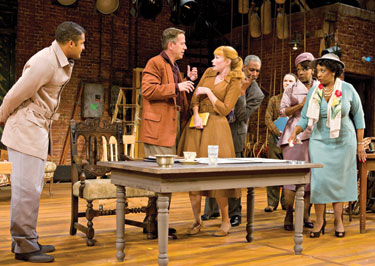 Trouble in Mind
(Photo by Richard Anderson)
And the real-life ending is even sadder: To this day Trouble In Mind has not appeared on the Great White Way, and Childress, who died in 1994, never got there either.
At least Washington's great Arena Stage has decided to put its weight behind the play, opening its season with a stirring production that in almost every way moves you.
Perhaps most surprising, given the topic and the history, is just how much you'll laugh. Trouble In Mind is packed with hilarious banter among its characters and witty truisms that probably shouldn't be funny, but are. "White people can't stand unhappy Negroes, so laugh," the play's veteran actress counsels a newbie.
Trouble In Mind focuses on a racially integrated theater company rehearsing a play in a Broadway theater. (David Korins's set magically transports us to the 1950s, further aided by Catherine Zuber's costumes with real flair.) The play-within-the-play, Chaos in Belleville, sounds like racist claptrap, though at least it has meaty roles for black actors. And Wiletta Mayer, tired of bit parts and "mammy" roles, is determined to become a star. But is this the role to do it?
The magnificent E. Faye Butler puts every fiber of her being into playing Mayer, an incredibly strong, multi-dimensional woman. After always being sweet and subservient to her white director, played with great range by Marty Lodge, Mayer finally bucks up the courage to speak her mind about the problems with her role and the play. Thomas Jefferson Byrd almost steals the show as the eccentric veteran actor Sheldon Forrester, who's seen so much trouble in his life, he assiduously works to avoid it at all cost. Forrester tries his level best to rein in Mayer's built-up rage.
Trouble In Mind is a bit overdrawn and didactic here and there; sometimes, you wish for a shade more subtlety or complexity. The naive Yale-graduated Judy Sears (Gretchen Hall) is essentially a one-note stereotype of a WASPy Connecticut girl. And what we hear of Chaos in Belleville is almost laughably awful and indefensible.
Ultimately, the most troubling thing about Trouble In Mind is that it's still relevant today. Even now there are too few plays on Broadway written by African-Americans. And there's still a struggle between the show and the business, and finding the right balance between what will move people and what will sell. Trouble In Mind may not have achieved that balance, but it should have been given a chance. If anything, Arena Stage proves it's not too late. Broadway could use a dose of Trouble.
Ay, Carmela! at GALA Theatre is another show about a show, or actors putting on a show. And like Trouble In Mind, it also focuses on a character pushing the envelope and causing trouble by asserting herself. In this case, Carmela, played by Spanish actress Mona Martinez, is one of two actors held captive and forced to perform in a fascist area of Spain during the Spanish Civil War. She makes the mistake of crossing her captors in a scandalous performance that ends with her shot dead.
TROUBLE IN MIND




To Oct. 23
Kreeger Theater
Tickets are $51 to $66
202-488-3300
arenastage.org
If that doesn't sound funny to you, you might not want to see this farce, a co-production with the Spanish theater company Accion Sur, and performed in Spanish with loosely translated English surtitles. At a recent performance at GALA, the audience laughed much throughout this farce, and was on its feet in a hurry after the show to give the show's only two actors a prolonged and rousing standing ovation. It is true Martinez and Diego Mariani, who plays her husband Paulino, give dynamo performances.
Perhaps something was lost in cultural translation, but Jose Sanchis Sinisterra's play left me wanting. I found much of what was meant to be funny painful stabs at humor, including a swishy, despicable doctor; childish, a-cultural swipes at Germans and Poles; and immature antics, including fart jokes and rudimentary magic tricks. And it's all performed on Giorgos Tsappas's largely barren stage, with Antonio Serrano's few sound and lighting effects of too-loud booms and a prolonged sequence of strobe lights.
AY, CARMELA!


To Oct. 9
GALA Theatre at Tivoli Square
3333 14th St. NW
Tickets are $20 to $38
202-234-7174
galatheatre.org
The most redeeming part of the evening was Martinez's husky singing voice, straight out of a flamenco dream. But she only sang a couple times, for a minute or two in total.
The play has some insights to impart, about the value of memory and of life, of what might come in the afterlife, and of the inhumanity of war. It's just too bad they come buried beneath all the rubble of the rest of the show.