Michael Sessa, president of The Center, D.C.'s LGBT community center, and David Mariner, the executive director, reported today that The Center suffered an attack of vandalism overnight that has left the organization without telephone and Internet service.
"I was working late," says Mariner, who was at The Center, 1318 U St. NW, Monday night. "It was 11:55. I heard noises and went to the back."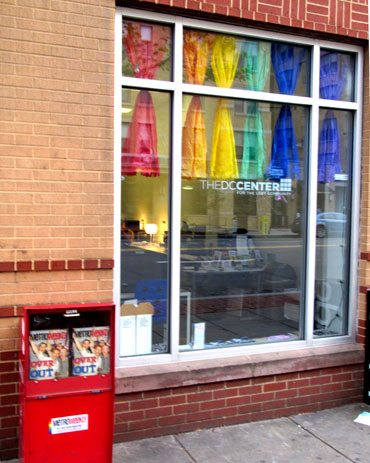 The DC Center for LGBT Washington, DC
(Photo by JD Uy)
Mariner says he yelled from inside The Center's locked back door, demanding to know what was going on in that exterior space, where there are some parking spaces and wiring.
"Some people shouted some obscenities and pounded on the door," came the response, says Mariner, qualifying that the obscenities were not specifically anti-LGBT.
Mariner exited The Center through the front door, on the relatively busy U Street corridor, and walked to check the rear area, which he says was empty by then. He adds that the wiring that was damaged by the vandals is easily identifiable as The Center's due to the labeling of the organization's reserved parking spaces.
While Mariner has already spoken with Sgt. Carlos Mejia of the Metropolitan Police Department's Special Liaison Unit, which includes the Gay and Lesbian Liaison Unit (GLLU), he says he'll be making the official police report later today. He also hopes to have The Center's phones and Internet back in working order sometime today, adding that online ticket sales for The Center's annual fall reception, Friday, Sept. 30, are handled by a third party and unaffected.
As for Mariner himself, "It would be fair to say I'm rattled."