Intimate one-man shows are like that friend who's just been on a cooking course. You know, the one who's frantic to make you dinner? On the one hand, you might be treated to a skillfully crafted feast of new and fabulous flavors. On the other, you might spend the evening smiling fixedly as you swallow things whole (because that way you don't have to taste them as much). Either way, your friend will be eagerly studying your every move. The problem is, by the time you figure out how it's going to be, it's way too late.
In his one-man show, Sweet Tea, Black Gay Men of the South, writer and performer E. Patrick Johnson most definitely has his eye on you, but he is also determined to blend the bitter with enough of the sweet, compelling and amusing to keep you chewing with enthusiasm. Considering that Johnson's subject matter touches, among other sensitive topics, familial rejection, self-denial, abuse, and of course homophobia, that's saying quite a lot.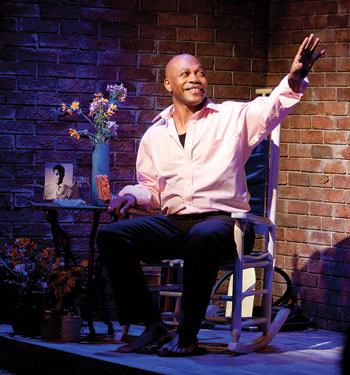 Sweet Tea
(Photo by Scott Suchman)
Based on the book in which he documents the stories of Southern-raised gay men of varying generations, in performance Johnson evokes 14 of the men, including himself. Raising different subjects and ideas relating to the Southern gay experience, the men come and go, signaled by voice and the odd prop, sharing their lives and hard-won perspectives. Though never quite laugh-out-loud hilarious nor gut-wrenchingly revelatory, Johnson's collective nevertheless evokes a strong sense of the place, emotional as well as geographical, from which these men hail.
Like many a compelling performer, Johnson is an interesting mix of the highly self-conscious (in a good way) and the totally abandoned. He might slowly make iced tea with the cogitative precision of an elderly man one minute and not long later, let fly with charm and athleticism on an urban dance floor. He builds his characters' recitations with care and delivers their cries and verdicts with accomplished rhythm and pacing. He is warmly inviting even as he gently challenges us to consider that which we would perhaps prefer not to.
Still, whether this will rock your world or merely provoke some thought on issues already front and center will depend on your point of view. For most reasonably aware people, especially the kind who attend one-man performance pieces, the evening will offer more on the poignancy of lives denied, than it will insight.
Also, though there is a well-crafted cohesion to the piece, there are some times when the characters become less easy to distinguish and others where their contributions are somewhat obtuse. And, as with many a one-man gig, there is a strong autobiographical component here. In examining his own life, Johnson brings authenticity and emotional honesty, but also a visible need for catharsis. Although this is compelling, the fairy tale ending (with wedding snaps) will not leave everyone as dewy-eyed. Yes, he found love and crossed the racial divide, but this more declared than explored. Who are you in the happily-ever-after when you've been through what Johnson has? And where does he store his baggage? Ultimately, Johnson is better at drawing out and distilling the essential issues of his subjects than he is of himself.
Of course, anything with "Black Gay Men" in the subtitle is also, inevitably, going to narrow the potential audience. And as important as the subtitle is, the downside is that some straights will stay away even though this is an evening that is almost as much about them as it is about being gay, black, male or from the South.
SWEET TEA



AND 1/2 STARS
To Oct. 9
Signature Theatre
4200 Campbell Ave.
Arlington
$40
703-820-9771
signature-theatre.org
For although Johnson may share the experiences of his personal demographic, these men have been judged by, influenced by, struggled with, and made peace with (or not) the straights that raised them, loved them, or reviled them. No straight can experience Sweet Tea without thinking at least a little more deeply about the perhaps never-discussed experiences of the gays in their family or social circle. Even more essentially, no one of any persuasion can listen to the agonies, ecstasies and foibles of Johnson's men and not relate them to their own questions of identity, gender, dignity, and that enduring urge to find one's place in the world. In other words, there is more than enough tea in Johnson's pitcher to go around.