For former Navy Petty Officer 1st Class Jeremy Johnson, Sept. 20 could not come fast enough. In 2007, after serving for 10 years, Johnson came out to his commanding officer in a letter because he was tired of having to conceal his sexual orientation in his professional life, including times when he was almost "outed" by fellow servicemembers.
"I was no longer able to compartmentalize at the pay grade I was in," Johnson says.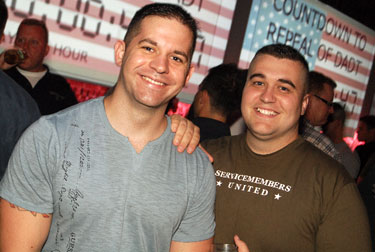 Jarrod Chlapowski and Servicemembers United executive director Alex Nicholson event celebrating the repeal of "Don't Ask, Don't Tell."
(Photo by Ward Morrison)
As a result, Johnson was discharged under the military's longstanding "Don't Ask, Don't Tell" policy, which banned gay servicemembers from serving openly. After his discharge, Johnson moved in with a friend in Baltimore, found a job as an independent defense contractor with the Navy and enrolled in a local community college before switching to the University of Maryland, where he expects to graduate in May with a bachelor's degree in sociology.
But now that "Don't Ask, Don't Tell" has been repealed, Johnson is working to re-enlist. He hopes to rejoin the Navy in the next 10 days, if possible.
But after nearly 18 years of "Don't Ask, Don't Tell," gay servicemembers hoping to re-join face some hurdles. Expected cuts in the defense budget, the lack of available positions due to high retention rates in the military, a bad economy and tight job market pushing more people into the military, and the lack of preference given to previously discharged individuals who are re-enlisting, are but a few.
"The thing people are going to find is everyone's looking to come back in, but everyone's situation is different," Johnson says. "So the timelines are going to vary."
Former Lance Cpl. Danny Hernandez knows how individual circumstances can prolong that waiting period. Hernandez was serving as a Marine Corps reservist when he was discharged in 2010, just months before his graduation from Texas A&M University, where he had spent four years in the ROTC program and had advanced to the rank of commanding officer. After an investigation initiated under "Don't Ask, Don't Tell," Hernandez received two separate forms of paperwork, each giving a different reason for his discharge.
"It was really unclear, and my unit actually stopped communicating with me," Hernandez says. "I didn't even find out I had been discharged until two months after."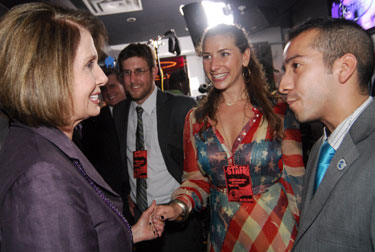 House Minority Leader Nancy Pelosi (D-Calif.) talks with Danny Hernandez at the Servicemembers Legal Defense Network event celebrating the repeal of "Don't Ask, Don't Tell."
(Photo by Ward Morrison)
Because of the two separate reasons given for his discharge, Hernandez must wait for his paperwork to be corrected and resolved before he can re-enlist.
But Hernandez is not the only DADT discharge facing complications. U.S. Air Force Maj. Mike Almy is currently engaged in a legal battle where he is suing the U.S. Department of Justice to be reinstated. Almy, who served for 13 years, was discharged in 2006 after Air Force superiors read his private email, which revealed he is gay.
With that lawsuit in ongoing settlement talks, Almy hopes to return to active duty once it has been resolved. He says he plans to re-enlist from somewhere in the D.C. area.
Jarrod Chlapowski, field and development director for Servicemembers United, the advocacy group for LGBT troops and veterans, said there's still more to be done in the fight for equality within the military.
Chlapowski, who served for five years but was never discharged under "Don't Ask, Don't Tell," says he has considered re-enlisting within the next year, but may want to delay that to work on some of the issues related to regulatory measures and partner benefits.
"I've never been under the impression that we were going to be done once 'Don't Ask, Don't Tell' was repealed," he says. "It's more like this is the end of a statute, which allows us to work on the regulatory changes, which includes partner benefits, which includes equal opportunity, which may or may not include transgender service."
Elizabeth Shirey, a law student at the University of California, Los Angeles, is considering enrolling in ROTC or applying for direct admission to the military, possibly as a Judge Advocate General (JAG) attorney. She says coming out in the military will be easier, though LGBT servicemembers may encounter some resistance from less accepting peers. Shirey had considered enlisting, but refused to serve under "Don't Ask, Don't Tell."
"It's moving slowly," Shirey says of the military's implementation of the repeal. "But the military can also be really progressive on some issues."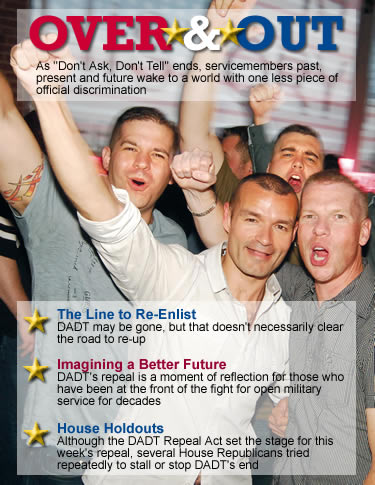 Army Maj. Travis Sloane says the details of how the military operates without the policy in place will still need to be ironed out.
"It's a bit of wait and see," he says. "There's going to be mistakes made on both sides, but we'll get through it, and it will work out."
Whether or not that means now coming out to his fellow officers is an easy one.
"Yes, without question," he says. "It's a responsibility, especially for senior officers, to set an example for everyone else. So if we do it, they'll understand there's less to be scared of."
It's the same sentiment expressed by Johnson in his push to re-enlist as soon as possible.
"Across the military, it's not going to be a problem," says Johnson. "I predict there will probably be a statistically insignificant number of incidents, but nothing indicative of a larger trend. And I have full faith and confidence that the military is prepared for this."